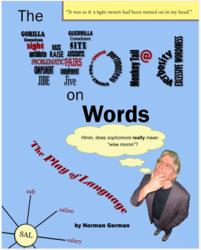 "This book is based on a learning approach that is a step above traditional textbooks and presents English and foreign words in a way that keeps the reader engaged."
Hammond, LA (PRWEB) August 29, 2011
English professor and author Norman German showcases his passion for words, experience as a teacher of writing and etymology, and understanding of the English language in his latest book, The Word on Words: The Play of Language. The book takes an innovative, interactive approach to vocabulary building and uses humor and etymology—or word origins—as memory devices to help readers build a more dynamic vocabulary.
German says that the book is an excellent tool for college students, students preparing for aptitude or admissions tests like the SAT, ACT and NTE, students taking advanced placement English classes, and those learning English as a second language. "This text serves as a great study tool and will give students a solid footing in word knowledge," German says.
The Word on Words, which focuses on vocabulary, etymology, memory devices, usage and the ludic or playful aspects of language, helps readers acquire extensive vocabulary knowledge through root words that unveil the meanings of hundreds of other words. In his work, German uses stories, games, graphics, and puzzles to make learning vocabulary exciting and to reinforce retention.
"Learning the meaning of words can be fun. I break down language in a way that makes learning enjoyable for students at all levels," German says. "This book is based on a learning approach that is a step above traditional textbooks and presents English and foreign words in a way that keeps the reader engaged."
The Word on Words: The Play of Language is available for sale online at Amazon.com and other channels.
About the Author:
Norman German studied literature and linguistics at McNeese State University, the University of Texas at Austin and the University of Louisiana at Lafayette. He has taught undergraduate and graduate courses on vocabulary and etymology for three decades. He has written and published 50 articles on various aspects of language, as well as scholarly analyses of works by American writers, such as Nathaniel Hawthorne, Ernest Hemingway and Ralph Ellison. He currently works as an English professor at Southeastern Louisiana University and as a freelance writer, whose previous works include "A Savage Wisdom."
MEDIA CONTACT:
Donna Vincent Roa
Managing Partner & Chief Strategist
Email: news(at)vincentroagroup(dot)com
Phone: (818) 397-9867
http://www.vincentroagroup.com
To buy a copy of the book: http://www.createspace.com/3579646
Review copies and media interviews available by calling 818-397-9867. For bulk sales with discounts, email ngerman48(at)bellsouth(dot)net.
###