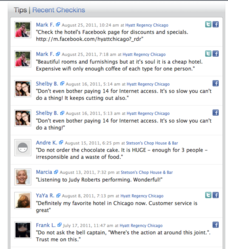 We're opening the door for exciting opportunities for our customers to stand-out from the crowd and drive incremental revenue.
San Francisco, CA (PRWEB) August 30, 2011
Revinate, the new standard for guest satisfaction, today announced the launch of its strategic integration with foursquare, a location-based mobile platform with more than ten million users. Integration with foursquare makes it easy for Revinate customers to monitor and reward social activity on their premises in real-time. With this update, Revinate enhances its position as the market leader and offers the most comprehensive set of reputation management functionality designed exclusively for hoteliers.
One of the first companies to integrate with foursquare's new Merchant API, Revinate is allowing its thousands of hotel customers to create and launch foursquare specials directly from their Revinate dashboard. In addition to surprising and delighting guests by connecting with them in real-time on their preferred social networks, hoteliers can now easily identify and reward loyal visitors and even increase ancillary revenue. For example, hoteliers can offer a foursquare special at their bar, restaurant or even spa in order to entice guests who would otherwise check-out without having experienced the additional services.
Hoteliers are just beginning to explore the sales and loyalty opportunities created by foursquare. According to Jay Ashton, CEO and co-founder of Revinate, "Hotels are always looking for new ways to differentiate on service. By providing our customers with an intuitive on-ramp to an innovative, fast-growing location-based service, we're opening the door for exciting opportunities for our customers to stand-out from the crowd and drive incremental revenue."
Akshay Patil, Platform Evangelist at foursquare says, "We built the Merchant API to allow third parties to build super useful tools to reach foursquare's fast-growing community. With this new integration, Revinate has created a great tool for the hospitality industry."
While foursquare is the first location-based service that Revinate has integrated into its platform, customers can expect additional services to be integrated in the near future.
About Revinate:
With online guest-generated travel reviews increasing in both number and importance, hotel and restaurant owners and operators have a simple choice: either ignore the cacophony of social media and hope for the best or proactively track and manage what is being said online in a way that deepens customer relationships, strengthens brands and boosts revenue. If you opt for the latter, then Revinate's user-friendly software platform, custom-designed for the unique needs of the hospitality industry, is an irreplaceable tool. Revinate's powerful technology monitors all of the important social media venues – including Twitter, Facebook and TripAdvisor – and provides instant alerts whenever your property or brand is mentioned. Based in San Francisco, Revinate counts the world's leading hospitality brands as clients. To learn more, please visit http://www.revinate.com.
###