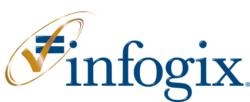 Naperville, IL (PRWEB) August 29, 2011
Infogix University is excited to announce that it will be offering two new Professional Controls certification programs beginning in August, 2011.
The Infogix Certified Controls Analyst (ICCA) certification program, co-branded with the Internal Controls Institute, is designed for internal controls professionals who demonstrate a level of understanding to carry out internal controls principles and practices. The online test for certification is based on experience and independent coursework.
"Individuals who are ICCA certified become a part of a very select group of professionals recognized worldwide," comments Mike Pregmon, COO & Executive Director, Internal Controls Institute. "These individuals possess the knowledge and are prepared to review and assess the effectiveness of internal control activities in their organizations."
The Infogix Certified Controls Developer (ICCD) certification program offers three levels of certification within each Infogix product: Basic, Expert and Mastery levels. Existing and newly-trained Infogix users proficient in the products can also apply for certification online as well. These exams include working examples and multiple-choice questions that validate knowledge of a particular product.
Sumit Nijhawan, Company Operations Leader of Infogix, states, "Infogix is pleased to be able to address this gap in the professional recognition of internal control specialists. Professionals and employers alike will benefit from validation of their level of expertise."
To learn more about the ICCA or ICCD certification programs, visit the Infogix University website now at http://www.infogix.com/certify!
###