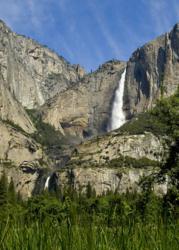 Spots like the Mariposa Grove of Giant Sequoias, which is accessed right at the southern entrance, the Wawona Pioneer History Center, Glacier Point road and Tunnel View are all accessed via the Wawona Road, which is the 41 entrance
(PRWEB) August 26, 2011
As a fire burns just outside Yosemite's west entrance on Highway 140, the southern entrance to the park, Highway 41, remains open with no smoke.
Highway 41 runs through Madera County, known as California's Gateway to Yosemite as it's the most popular entrance to the park.
"Guests see a lot of the popular spots of Yosemite using Highway 41 to get to the Yosemite, " said Jarrod Lyman, Director of Media and Communications for the Yosemite Sierra Visitors Bureau, the agency that promotes the southern gateway region.
"Spots like the Mariposa Grove of Giant Sequoias, which is accessed right at the southern entrance, the Wawona Pioneer History Center, Glacier Point road and Tunnel View are all accessed via the Wawona Road, which is the 41 entrance," Lyman said.
Yosemite visitors can still easily access the park on Highway 41, which has no impacts from the fire burning at the other entrance. "We have no smoke, no restrictions" Lyman said.
In addition to Yosemite, the southern entrance has other attractions to entertain visitors. The Yosemite Mountain Sugar Pine Railroad is located moments south of the entrance to the park. The historic railroad runs two authentic Shay Locomotives, built in 1928 and 1913, through the Sierra National Forest. They also have a museum on site showcasing the life of the logger at the turn of the century and gold panning lessons.
Bass Lake is also located near the southern entrance. This popular alpine lake offers every water sport one can think of. Bass Lake also has lodging located right on shore, from camping to cabins on up to a full service resort, as well as dining and shopping moments from the water's edge.
The Madera Wine Trail is another popular attraction located in California's Gateway to Yosemite. Award winning wineries are located throughout Madera County, from Oakhurst about 12 miles south of the entrance to O'Neals and Madera.
The region is also home to numerous museums, art galleries and more. For lodging, activities and other travel ideas, visit http://www.YosemiteThisYear.com.
"We are open for business," said Lyman. "California's Gateway to Yosemite is perfect for your vacation."
Contact:
Jarrod Lyman
Director of Media
Yosemite Sierra Visitors Bureau
(559) 683-4636
###