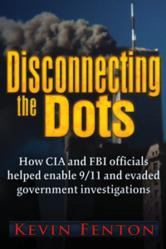 Walterville, OR (PRWEB) August 26, 2011
As the tenth anniversary of the 9/11 attacks on the World Trade Center and the Pentagon nears, disturbing information about our government's foreknowledge of the perpetrators is coming to light. In the book Disconnecting the Dots, recently released in paperback, author Kevin Fenton delves deeply into the questionable actions taken by some members of America's intelligence community in the months before the tragedy.
Using official reports, source records and other reports, Fenton places the blame for not apprehending the terrorists squarely at the feet of a small group of officials centered around the CIA's bin Laden unit, Alec Station – the "Alec Station group". In fact, the author shows how certain intelligence officials deliberately tried to keep the plot from being discovered by colleagues.
In addition to the withholding of information by the CIA, another key aspect of the book is the NSA's surveillance of an al Qaeda safe house and communication hub in Yemen. The bombings of the US embassy in Africa, the attack on the USS Cole and the 9/11 attacks were all coordinated from this location. Even though the NSA and CIA monitored all the communications through this hub, they failed to take action to stop the attacks.
Fenton specifically names Alec Station deputy chief Tom Wilshire and his boss Richard Blee as being primarily responsible for many of the intelligence failures. The author's research points to multiple occasions when the FBI was not notified that known terrorists had US visas and were traveling to the country. In addition, the Alec Station group's influence reached into the FBI and prevented it from conducting investigations into certain terrorists that ultimately allowed the 9/11 attacks to go forward.
Publisher Kris Millegan states, "Kevin's book is very sober, and examines events through multiple viewpoints. The book narrowly focuses on a few government officials who had verified intelligence about two of the 'hijackers,' but then kept that information away from critical US investigative bodies, which could have intervened in the 9/11 plot. It's a damning tale."
Disconnecting the Dots is published by TrineDay Books. http://www.trineday.com
###