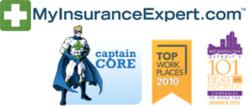 Troy, Michigan (PRWEB) August 29, 2011
MyInsuranceExpert.com, an online life insurance brokerage firm currently based in Troy, Michigan, announced it has received a significant investment from Rockbridge Growth Equity, LLC, a private equity firm based in Detroit.
The company, which presently employs 85 team members, has plans to hire an additional 200 employees in the next several months and move its office and entire brainforce to downtown Detroit by the end of the year.
"Beyond simply raising capital, it was imperative for us to find the right strategic partner for our business. We've done that through this relationship with Rockbridge Growth Equity," said MyInsuranceExpert.com CEO Lorne Zalesin.
"As a web-based, culture-driven company, we are extremely fortunate to now be partnered with an extraordinary family of companies that includes Quicken Loans, Detroit Venture Partners, ePrize, and One on One Marketing, to name a few," Zalesin added. "We are looking forward to an exciting collaboration and are eager to be counted among the new wave of web-based businesses that are making Detroit their home."
Founded by the Schechter Organization and NFP (NYSE: NFP), MyInsuranceExpert.com uses the internet to engage directly with consumers to facilitate the purchase of life insurance from the top insurers nationwide. The company, named one of Michigan's 50 "Companies to Watch" in 2011, combines the ease of the web, proprietary internal technology, and the expertise of their licensed advisors to provide a world-class client experience.
"MyInsuranceExpert's focus on client experience and simplifying the life insurance process positions it to be the dominant player in an industry that is still extremely local and fragmented. As demand for life insurance continues to grow and more consumers move online to begin their search, the potential to grow this business is tremendous," said Brian Hermelin, managing partner, Rockbridge Growth Equity.
"Also, as a Detroit-based private equity firm, we are very excited to be making an investment in not only a Michigan-based, but a soon to be Detroit-based business," Hermelin added.
MyInsuranceExpert.com is one of the newest members of Dan Gilbert's Family of Companies, a collection of financial services, sports media & entertainment, consumer direct marketing and education businesses. Gilbert, Founder and Chairman of Quicken Loans, Majority Owner of the Cleveland Cavaliers, and Partner of Detroit Venture Partners, is leading Detroit 2.0 by creating a technology-based urban core where young and creative professionals can work, live and play in downtown Detroit.
About MyInsuranceExpert.com
With more than three decades of experience, MyInsuranceExpert.com is a Michigan-based company offering affordable insurance services and support throughout the United States. Named one of Michigan's 50 "Companies to Watch" in 2011, MyInsuranceExpert.com was honored with Top Workplace awards from The Detroit Free Press in 2009 and 2010, and Metropolitan Detroit's 101 Best and Brightest Companies to Work For in 2010. For more information, please visit http://www.MyInsuranceExpert.com.
About Rockbridge Growth Equity, LLC
Rockbridge Growth Equity, LLC is a Detroit-based private equity firm that invests in financial and business services, consumer-direct marketing, and sports, media & entertainment industries. Rockbridge owns equity stakes in AccountNow, Protect America, Northcentral University, Connect America and One Reverse Mortgage, and is affiliated with other leading businesses in its target sectors including Quicken Loans, the Cleveland Cavaliers, Title Source, Fathead, Xenith and ePrize. For more information on Rockbridge Growth Equity, visit http://www.rbequity.com.
# # #