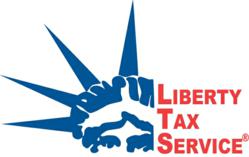 Life's changes such as marriage and having a child have tax consequences, and our courses delve into those resulting tax changes.
(PRWEB) August 29, 2011
The economic malaise is having one positive effect on consumers. According to a recent CareerBuilder survey, "The majority of U.S. workers (72 percent) reported they are more fiscally responsible since the recession and have made a variety of changes to their living and spending habits." Consumers interested in becoming more fiscally responsible about their income taxes are invited to enroll in Liberty Tax Service's fall income tax preparation classes. More tax knowledge can add up to tax savings and a marketable new skill set. Anyone can enroll regardless of whether they have any prior tax experience.
"Life's changes such as marriage and having a child have tax consequences, and our courses delve into those resulting tax changes," said John Hewitt, CEO of Liberty Tax Service. "Our students may discover that they are overlooking deductions year after year, and may be eligible for a refund by amending their returns."
The class curriculum covers all aspects of individual tax preparation and clarifies the latest tax changes. Students then apply the tax code to paper and computer preparation. During the weeks of instruction, students learn the fundamentals of basic income tax preparation. Instructors cover all schedules, credits and forms that can be filed with an individual tax return. Topics include filing an amended return and how to file as a sole proprietor business owner. After completing the course, students can utilize their new skill set by applying for tax preparer positions with Liberty Tax.
Classes start after Labor Day. Class schedules are flexible with day or evening classes available twice a week for ten weeks. There's a minimal charge for books and supplies. Liberty Tax Service is actively recruiting bilingual tax school students. To learn more about job opportunities and Liberty's series of tax courses, visit http://www.libertytax.com/tax-education.html or call 1-800-658-1042.
About Liberty Tax Service:
Liberty Tax Service is the fastest-growing retail tax preparation company in the industry's history. Founded in 1997 by CEO John T. Hewitt, a pioneer in the tax industry, Liberty Tax Service has prepared over 9,000,000 individual income tax returns. With 42 years of tax industry experience, Hewitt stands as the most experienced CEO in the tax preparation business, having also founded Jackson Hewitt Tax Service. Tax school provided an entry point to the tax industry for Hewitt in 1969.
Liberty Tax Service is the only tax franchise on the Forbes "Top 20 Franchises to Star t," and ranks #1 of the tax franchises on the Entrepreneur "Franchise 500." Each office provides computerized income tax preparation, electronic filing, and online filing through eSmart Tax.
###