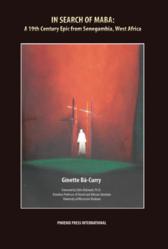 In Search of Maba opens up new perspectives on the study of African history and on the 19th century European encounters with traditional African rulers.
Washington D.C. (PRWEB) August 30, 2011
In Search of Maba: A 19th Century Epic from Senegambia, West Africa, by Ginette Bâ-Curry, Ph.D., will be published August 29th 2011 by Phoenix Press International. The announcement was made by Phoenix President Ali Diallo.
The play covers the emergence and spread of Islam in the early and mid-19th century sub-Saharan Africa, as told through a dramatic re-enactment of the life of Maba Diakhou Bâ (1809-1867).
"Maba Diakhou Bâ played a major role in spreading Islam during a critical time in 19th century Senegambian history," author Dr. Bâ-Curry said. "He is known as the champion of Islamic resistance against French and British colonization, corrupt Muslim and traditional rulers. He is remembered for his religious and military conquests and his strategic, political as well as diplomatic skills."
The play provides a clear picture of the societal chaos brought about by the transatlantic slave trade that devastated the whole region.
Edris Makward, Ph.D., Emeritus Professor of French and African Literature at the University of Wisconsin-Madison, wrote the preface for the book.
"In addition to the authentic depiction of the historic African figures of El-Hadj Oumar Tall, of Lat Dior, the famous Damel of the Wolof kingdom of Cayor, and of Maba Diakhou himself," Dr. Makward said, "we get to meet, in highly dramatic scenes, the architects of British, French penetration and colonial domination of the African continent in the late 19th century, Louis Faidherbe, Pinet-Laprade, former Governors of Senegal, and the like."
One remarkable feature of the play is the use of the traditional griot (storyteller) to summarize and present the action in a very dramatic fashion.
In addition to the oral sources used in the play, Bâ-Curry has also used written sources such as the works of African and western scholars: Dr. Iba Der Thiam's Maba Diakhou Bâ (1977), David Robinson, Jean Suret-Canale, Martin Klein, Donald Cruise-O'Brien and John Ralph Willis.
"In Search of Maba opens up new perspectives on the study of African history and on the 19th century European encounters with traditional African rulers," Phoenix President Ali Diallo said. "This play offers a valuable insight to scholars, students, and general readers on Maba Diakhou Bâ's life."
Ginette Bâ-Curry holds a B.A and M.A in English, a Ph.D. in Post-Colonial Literatures, a M.A in International Relations and B.A in Italian from the Sorbonne University, Paris III (France). She is affiliated with Florida International University's African and African Diaspora Study Program (AADS), FIU's Women Studies Program and the Initiative on Race, Gender and Globalization (IRGG) at Yale University.
She is the author of Awakening African Women: The Dynamics of Change and "Toubab La!" Literary Representations of Mixed-Race Characters in the African Diaspora. She has been published in numerous academic journals and is the editor of the "Transnational Identities" series at Phoenix Press International.
ABOUT PHOENIX PRESS INTERNATIONAL
Phoenix Press International (known as Editions Phoenix in French-speaking markets or simply Phoenix) is an international publishing group located in America and doing business in Europe, Canada, USA and Africa. Through its publications, Phoenix seeks to educate people about the beauty, complexity and cultural richness of societies they may only encounter through the written word. Phoenix collaborates with scholars, heads of state and internationally renowned authors. The company also gives young and upcoming authors the opportunity to publish their books through its collection called Première Chance ("First Chance").
Phoenix Press International is a division of Phoenix Global Ventures, an international media company that helps solve global challenges such as the gap between cultures, the development of small presses in Africa and the role of Internet Technologies and digital media in developing countries.
Find out more at:
http://www.PhoenixGV.com
http://www.phoenixpublishing.org
###