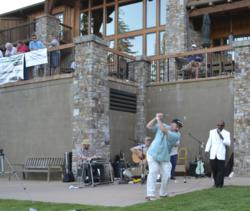 Raj Jackson bought major excitement to this golf event.
Roslyn, WA (PRWEB) August 29, 2011
The 2011 Deadliest Open Celebrity Golf Tournament took place at the Suncadia Resort in Roslyn, Washington on August 26th and 27th. The resort Suncadia has received AAA Four Diamond Award and was selected as 'Best New Resort Destination' by Seattle Magazine. It has quickly become a hot spot in the northwest and is located just 90 minutes east of Seattle in the Cascade Mountains.
Suncadia kicked the party with the Grand Opening Celebration of its third golf course, Rope Rider, on Friday, August 26, 2011. Highlighted by a golf clinic hosted by Rope Rider course designers Peter Jacobson and Jim Hardy. Peter Jacobson is a PGA tour legend and Jim Hardy is a world famous golf instructor. The golf course is built along the site of a historic mines and has stunning views of the mountains and valleys. The resort was the host to the Deadliest Open Celebrity Golf Tournament featured the stars of the hit TV Show Deadliest Catch boat Captains Kieth Colburn, F/V Wizard, Harry Lewis, F/V Incentive, Greg Moncrief, F/V Farwest Leader, Derrick Ray, F/V Cornelia Marie. There were two special golf events taking place. The Captains 9-Hole Tournament on the Rope Rider Course on Friday and the Celebrity Golf Tournament on Prospector course on Saturday.
Special Guest, Las Vegas golf entertainer, Raj Jackson performed on Saturday at the awards banquet. Raj performed and entertained the crowd as he taught the secrets to the golf swing. The fun part of the show was when he brought up on stage the Deadliest Catch TV star Captain Keith Colburn and transformed his swing in front of everybody. It was a treat for all ,the fans, locals, sponsors, volunteers, cast and crew members to see. At the end of the show, someone in the crowd yelled for Raj Jackson to hit a golf ball, so he hit a 6-iron off the front lawn of the clubhouse dead straight in the pond 200 yards away with a tuxedo on. That impromptu shot will be remembered forever as it created a buzz throughout the crowd. Deadliest Catch TV star Captain Greg Moncrief was quoted as saying, "Raj Jackson brought major excitement to this event with his golf show with his ability to mix and mingle with the crowd was quite impressive." Raj and other celebrities of the Deadliest Catch hit the town every night taking hanging out with the locals in Roslyn and Cle Elum. Taking pictures, signing autographs and partaking in the nightly festivities. The event got the whole town involved and was a huge success in the community.
Who is Raj Jackson? He is a one-of-a-kind golf entertainer from Las Vegas. He mixes golf instruction, comedy, skits and impersonations thru his various golf shows. His career has been filled with both professional and athletic achievements. He has been playing golf since he was 15 and is currently a USGTF Master Golf Teaching Professional. Here is the story on how he became Raj "Action" Jackson.
Dr. Jackson
He earned a Biology Degree from West Virginia University and became a Doctor of Chiropractic from Life University in Marietta, Georgia. Dr. Jackson's first job was as a resort Chiropractor in Jamaica for Superclubs. He worked at the Five Star Grand Lido Braco and Grand Lido Negril Properties. There was a 9 hole golf course at the resort and Raj Jackson took full advantage of that. He played with Golf Pro everyday and practiced hitting balls at night under the bright stars. Eventually, he developed a strong game.
In 2003, he decided to change careers from Doctor to Sports Professional. He got certified as a USGTF golf teaching professional at Penn National Golf Club. His first big break was the Director of Instruction at Woodbridge Golf Club in Kings Mountain, N.C. and later became the Head Golf Pro at Richmond Pines Country Club in Rockingham, N.C.
One night, he search on the internet "International golf jobs" on google and found openings for golf instructors on cruise ships. In 2005, he started out at the Port of Miami on a Carnival Cruise Ship and worked the Caribbean islands. In 2006, he did a world tour on Seattle's own Holland America hitting 50 countries in one run. He has also worked on Celebrity and P&O Cruises. During his time on the high seas, Raj gave over 15,000 golf lessons.
One day, a famous comedian came to one of his golf clinics and was amazed with the lesson. Later that night in the crew bar, he convinced Raj to change careers from golf instructor to golf entertainer. Raj moved to Las Vegas and started working & developing his golf shows. To help create the music and graphics for the show, he teamed up with the creative professionals at the Apple Stores of Las Vegas. They created the Make Par Like A Star golf show- his signature show. He has performed the show throughout Las Vegas such venues such as Primm Valley Casino, Town Center Lounge and at various charities event such as Las Vegas Children's Foundation and many more.
Raj Jackson is also a TV host. In 2011, Upscale Golf hosted by Dr. Jackson was a nationally syndicated cable TV show seen the Legacy TV Network throughout the United States. The show combined Golf, Travel, Style Advice, Golf Tips, Product Reviews and Life Lessons. Season one ran from Feb 23 to Aug 23. Currently, Raj is filming Season Two in Las Vegas and set to release in the spring of 2012.
To book Raj Jackson for your golf tournament, convention, corporate events or private functions, just go to http://www.rajjackson.com or http://www.makeparlikeastar.com.
http://www.suncadia.com
http://www.deadliestopen.com
http://www.makeparlikeastar.com
###