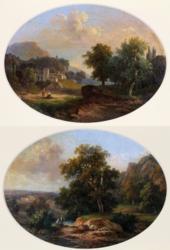 "His work was highly influenced by the landscape artist J.M.W. Turner and several years later by Corot..."
Boston, MA (PRWEB) August 30, 2011
Kaminski Auctions of Beverly, MA and Beverly Hills, CA is pleased to announce their Fall Fine Art auction which will be held in their auction gallery on September 8, at 6:00 pm at 117 Elliott Street, Beverly, Ma.
The highlight of the sale is an important pair of landscapes by the American artist Thomas Moran (1837-1926) in their original frames.
Thomas Moran was born in Lancashire, England, and immigrated with his parents to Philadelphia as a young boy. He is widely regarded as a leading artist of his time who traveled extensively out west and chronicled the Western Exploration. After a trip to England at the age 37, his work was highly influenced by the landscape artist J.M.W. Turner and several years later by Corot, after studying Corot's tonalist painting style.
His paintings were so much a reflection of the West he became known as T. Yellowstone Moran and incorporated the letter Y into his monogram. The pair of Moran's are oil on canvas, monogrammed with his initials and estimated at $80,000-$120,000.
Among the many European paintings is a wonderful still life of flowers by Maurice de Vlaminck (French, 1876-1958), oil on canvas signed lower right. Vlaminck was a French painter who along with Andre Derain and Henri Matisse is considered a principle figure in the Fauve movement. The Fauve movement was a group of early 20th century artists who challenged the Impressionists by favoring strong colors and wild brushwork over realistic and representational qualities. The painting is 20" x 17" and estimated at $30,000-$40,000.
Works by Russian artists in the sale are by Aleksandre Vladimirovic Makovsky
(Russian, 1869-1924), a wonderful oil on canvas of soldiers returning home, estimated at $15,000-$20,000 and Georgi Lapchin (Russian 1885-1950). The Lapchin is oil on board of a sea scene from the estate of Mrs. Florence "Bunny" Heath Horton Austin, heiress of Chicago Bridge and Iron Co. and wife of D. Warren R. Austin of Montecito, California. The painting once hung in their estate, Val Verde, one of the most magnificent homes in the Santa Barbara area, which was host to such Hollywood luminaries as Katherine Hepburn, Gloria Swanson and Vincent Price.
A George Sheridan Knowles, (British 1863-1931) estimated at $15,000-$20,00 depicting a mother and daughter feeding birds is sure to generate substantial interest as well.
Two American artists round out the top lots in the sale. The first is a portrait by Louis Charles Moeller (American, 1855-1930) of a bearded man reading, oil on board, signed and encased in a mahogany shadow box frame and estimated to bring $7500-$12,000 and the other, a lovely winter view, in a carved gilt frame, by the popular artist Antonio Cirino (American, 1889-1983) estimated at $10,000-$15,000.
Preview for this important sale is Sunday, September 4th, 2011 from 12:00-5:00pm and Monday through Wednesday, September 5th-7th, 2011, 10:00am-5:00pm and September 8th, 10:00am-6:00pm at the Kaminski auction gallery at 117 Elliott Street, Rte 62, Beverly, Ma 01915.
Bidding in person, by phone and Internet through Live Auctioneers. For more information please call 978-927-2223, email: sfarnsworth(at)kaminskiauctions(dot)com or visit our website http://www.kaminskiauctions.com to view the entire sale.
###