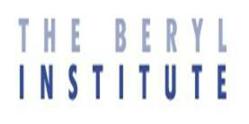 We hope to encourage greater knowledge sharing and foster continued advancements that will positively impact patient experience efforts.
Bedford, Texas (PRWEB) August 30, 2011
In a new initiative to support healthcare organizations in addressing the critical topic of patient experience, The Beryl Institute announces its inaugural regional roundtable event to be held November 3, 2011 in Los Angeles. The roundtable is intended to expand the dialogue and identify common themes on how healthcare can improve the patient experience.
Hosted by UCLA Health System at the Ronald Reagan UCLA Medical Center and UCLA Campus, the one-day session will center around facilitated, interactive work groups, each focusing on attendee-selected topics. Work groups will collaborate to develop specific action plans for each topic that can be implemented by attendees when returning to their organizations.
"The opportunity for leaders of healthcare organizations of all sizes to come together to create industry-wide action plans on patient experience is what makes this event truly unique," said Jason Wolf, executive director of The Beryl Institute. "By providing this thought incubator and networking opportunity, we hope to encourage greater knowledge sharing and foster continued advancements that will positively impact patient experience efforts."
The interactive sessions will open with a keynote presentation, PEAK in Healthcare, presented by Chip Conley, founder and executive chairman of Joie de Vivre. Closing the program will be Dr. David Feinberg, chief executive officer, UCLA Hospital System / associate vice chancellor, UCLA Health Sciences, delivering the concluding keynote, Healing Humankind One Patient at a Time.
This roundtable is the first of several interactive regional gatherings to be hosted by The Beryl Institute. Additional sessions are in development for 2012.
To learn more, visit https://theberylinstitute.site-ym.com/?page=RoundtableNov2011.
About The Beryl Institute:
The Beryl Institute is the global community of practice and premier thought leader on improving the patient experience. The Institute serves as a reliable resource for shared information and proven practices, a dynamic incubator of leading research and new ideas and an interactive connector of effective leaders and dedicated practitioners. The Institute is uniquely positioned to develop and publicize cutting-edge concepts focused on improving the patient experience, touching thousands of healthcare executives and patients.
The Beryl Institute defines the patient experience as the sum of all interactions, shaped by an organization's culture, that influence patient perceptions across the continuum of care.
You can follow The Beryl Institute on LinkedIn, Facebook, and Twitter (@berylinstitute) or visit The Beryl Institute website, http://www.theberylinstitute.org.
###