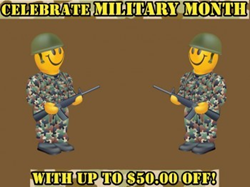 Aurora, IL (PRWEB) August 30, 2011
Quality Logo Products, ranked as one of the fastest-growing promotional products companies in America by Inc. magazine, announced a promotion today that benefits both military staff and those wishing to order items during the month of September. In order to show appreciation for the brave men and women serving the country, the company has reduced the prices on dozens of hand-selected promo items and also made two coupons available: a $50 coupon for qualifying government employees and a $25 coupon for non-military personnel in celebration of Military Month.
Hundreds of military and politically-themed promotional products are available from Quality Logo Products. Choices include: Soldier Stress Balls, Camo Pocket Coolies, Support Our Troops Ribbon Magnets, Camouflage Backpacks, Camo Tote Bags, Ribbon Air Fresheners, Camo Stress Balls, and Military Compasses. These popular military promo products and more will be available to all customers through the end of September 2011.
In addition to the themed promotional products above, Quality Logo Products is allowing EVERYONE to celebrate Military Month by offering additional savings via $50 (SALUTE50) and $25 (SALUTE25) coupons. To qualify for the $50 coupon, customers must have a valid government-related email address such as .gov, .mil, .army OR the order must be shipped to an APO/FPO address. Participants may redeem the $50 off on qualifying orders of $400 or more* (before setup charges and taxes and excluding shipping/handling charges). Anyone can use the $25 coupon as long as the order totals $150 or more* (before setup charges and taxes and excluding shipping/handling charges). These coupons will be valid from Tuesday, August 30, 2011 through Friday, September 30, 2011.
These specially-priced giveaway items and discounts are ideal for saving the maximum amount of money prior to the beginning of the next fiscal year. Federal departments, as well as a variety of other companies and organizations, greatly benefit from fiscal year-end sales, especially if budgets are tight.
*The exact terms, conditions, and restrictions of these offers, including how to redeem the exclusive coupons, can be found here.
About Quality Logo Products:
Quality Logo Products, Inc. is a leading distributor of promotional products. Companies, organizations, and individuals can add their names, logos, or slogans to more than 25,000 different promotional items such as personalized pens, custom t-shirts, and stress relievers for marketing purposes.
# # #