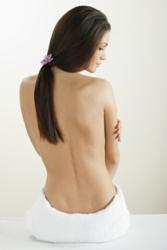 Brooklyn, NY (PRWEB) August 31, 2011
Q-switched lasers are typically used for tattoo removal, but the devices are ill-equipped for the treatment of some conditions, including allergic tattoo reactions. Though long considered the gold standard, these lasers can cause pain and discomfort, are unable to remove some color spectrums such as yellow, and non-tattooed areas of the skin are often exposed to laser light, as the beam lacks precision. Over the last 10 years, just two different types of lasers have been employed for tattoo removal, with many limitations. Ablative fractional resurfacing (AFR) offers a solution to these shortcomings.
The Sciton® Fractionated Erbium laser is used in conjunction with a traditional laser, and utilizes a computer-controlled scanner so that only the area being treated is actually exposed to laser energy. In addition to tattoo removal and the treatment of allergic tattoo reactions, the laser can be used for combination treatments, such as scar removal or scar repair. All colors, including hard-to-treat colors, can be removed with the Sciton® Fractionated Erbium laser, in less time than with traditional lasers. This is possible because the laser penetrates deep into the skin to more effectively break up the ink pigmentation. Once the ink has been exposed to the laser energy and broken up, it is naturally absorbed into the body. As the ink becomes less concentrated, it begins to fade, eventually dissolving altogether. The Sciton® Fractionated Erbium laser is so effective that the number of treatment sessions required can be markedly reduced, saving the patient time and money.
In a study conducted by Harvard University, published in the Journal of the American Academy of Dermatology (JAAD) in June 2011, two patients were treated with the AFR Sciton® Fractionated Erbium laser. The first patient, a male aged 52, suffered an allergic reaction from a portion of a multi-colored tattoo on his upper extremity. The second patient was a 31-year-old woman with a red and black tattoo on her lower extremity. After a series of treatments with the AFR, both patients experienced a substantial or complete resolution of symptoms, and the tattoo ink was significantly reduced or completely removed. The Harvard study concluded that AFR treatment – such as that offered by the Sciton® Fractionated Erbium laser – was safe and effective for the removal of allergic tattoos.
As reported in the New York Times, a recent report by the Food and Drug Administration (FDA) estimates that nearly 45 million Americans have tattoos; tellingly, nearly 17 percent of those with tattoos, or some 7 million people, regret their decision. Tattoo removal is becoming increasingly popular each year. Dr. Morris Westfried of New York City recognizes the need within his community for this service and is now using this standardized approach.
Call (718) 837-9004 to schedule an appointment with Morris Westfried. MD, an expert tattoo removal and laser treatment specialist.
For further information, visit http://www.tattoos-removed.com.
###