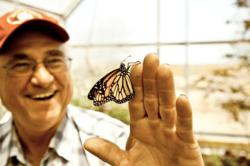 Madera, CA (PRWEB) August 30, 2011
Homegrown Cellars is known for their bevy of pomegranate products, but a new attraction will bring added attention to the popular farm.
Homegrown Cellars owners Alex and Jackie Lehman announced the grand opening of a new 3000 square foot butterfly house at Homegrown Cellars. An unveiling will take place Saturday, Sept. 3 from 10 am until 7 pm.
Hundreds of butterflies from four species will be in display to start with. Guests will be able to see Monarchs, Painted Ladies, Morning Cloaks and Red Admirals butterflies.
After the grand opening, the butterfly house will be open every Friday and Saturday through October. Future plans for it include breeding of butterflies, and additional species, including exotics. The house will close in the winter and reopen again in March.
They will also be selling Pomegranate Smoothies, and the gift shop featuring pomegranate products, including their popular pomegranate honey, will also be open.
Homegrown Cellars is located at 13702 Road 20 in Madera. For more information, visit http://www.HomegrownCellars.com.
The popular agritourism site is also the kick off point for the inaugural Pomegranate Celebration and Festival which runs October 30 through November 6. More information on that can be found at http://www.pomfest.com.
# # #