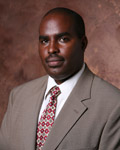 "African regional trade agreements are unique because they are steeped in African history, politics and realities, and therefore they defy being strapped into the interpretive straitjacket of European or other non-African experiences."
Albany, NY (PRWEB) August 31, 2011
Albany Law School Professor James Gathii's latest book, African Regional Trade Agreements as Legal Regimes (Cambridge University Press), offers the first comprehensive analysis of the impact of trade agreements between African nations, contrasting these more flexible agreements with other contemporary trade models such as NAFTA or the European Union.
According to Professor Gathii, "African regional trade agreements are unique because they are steeped in African history, politics and realities, and therefore they defy being strapped into the interpretive straitjacket of European or other non-African experiences."
The book also examines the compatibility of African Regional Trade Agreements with WTO rules and examines the trade remedy regimes and dispute settlement mechanisms in these agreements.
In African Regional Trade Agreements as Legal Regimes, Professor Gathii argues that African regional trade agreements are not purely or exclusively trade agreements, but rather agreements that encompass a broad set of objectives. As he notes, nothing says this better than the Treaty for the Establishment of the African Economic Community, which provides that one of its purposes is to facilitate cooperation "in every field of human endeavor."
As the Associate Dean for Research and Scholarship and the Governor George E. Pataki Chair of International Commercial Law at Albany Law School in New York state, Professor Gathii's research and expertise spans the areas of public international law, international economic law, international intellectual property and trade law, as well as on issues of good governance and legal reform as they relate to the third world and sub-Saharan Africa in particular.
Professor Gathii's publications include War, Commerce and International Law (Oxford University Press, 2010), as well as more than 50 articles and book chapters. In addition to teaching at Albany Law School, he has taught courses at the Trade Policy Training Institute in Africa, based in Tanzania, for the past four years. He also spent a sabbatical from 2007 to 2008 in Kenya doing research and visiting as part of the University of Nairobi's Faculty of Law; during that time he also wrote a column for Business Daily (Africa), to which he still contributes.
ALBANY LAW SCHOOL is a small, independent private school in the heart of New York state's capital since 1851. As the oldest law school in New York and the oldest independent law school in the nation, the institution offers students an innovative, rigorous curriculum taught by a committed faculty. Several nationally recognized programs—including the Government Law Center and the Albany Law Clinic & Justice Center—provide opportunities for students to apply classroom learning. Students have access to New York's highest court, federal courts, the executive branch and the state legislature. With more than 9,000 alumni practicing in every state in the country, and several continents, the employment rate for graduates has been well above the national average for law schools for the past 26 years. Visit http://www.albanylaw.edu.
# # #