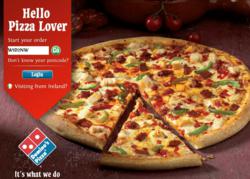 (PRWEB UK) 31 August 2011
Domino's Pizza, the pizza delivery expert, has launched a new free iPad app to enable pizza lovers to order in a matter of swipes. Developed by Somo, the iPad app is the latest mobile addition to Domino's ordering methods and sits alongside its existing iPhone and Android apps.
iPad users simply need to enter their postcode and the new app will automatically locate the nearest Domino's store. Users can then scroll through a carousel style menu to select their favourite pizzas, sides, desserts, subs and drinks. Pizzas can be customised by choosing the base and pizza size, selecting the pizza sauce and then scattering on a range of tasty toppings just by tapping the screen.
Having selected their pizza, iPad users can also choose from a range of sides, desserts and drinks and view the store's latest meal deals. With PayPal available as one of the payment options, pizza lovers can place their order and pay via the app in just a few clicks.
Simon Wallis, sales and marketing director for Domino's Pizza, said: "We are delighted to launch our new iPad app, following the great success of our iPhone and Android apps. Sales of iPads are currently growing faster than iPhone* and with the introduction of our new ordering app, we are keen to capitalise on this opportunity. We have achieved fantastic sales to date through mobile channels – our iPhone app generated £10million in pizza sales in just eight months – and we expect this trend to continue with our new iPad app and further take-up of our existing apps for iPhone and Android.
"We want to make sure that ordering a pizza is quick and easy for our customers however they do it and wherever they are – whether it's sitting on the sofa or commuting home on the train. We have worked very closely with Somo to build an app in true Domino's style, which is not only user-friendly but fun too."
Domino's new iPad app is now available to download free from the App Store.
*Source: Apple
http://www.apple.com/pr/library/2011/07/19Apple-Reports-Third-Quarter-Results.html
Notes to Editors:
About Domino's Pizza
Domino's Pizza UK & IRL plc is the leading player in the fast-growing pizza delivery market and holds the exclusive master franchise to own, operate and franchise Domino's Pizza stores in the UK and the Republic of Ireland. The first UK store opened in Luton in 1985 and the first Irish store opened in 1991. In April 2011, the Group acquired a majority stake in the exclusive master franchise to own, operate and franchise Domino's Pizza stores in Germany.
As at 26 June 2011, there were 688 stores in the UK, Republic of Ireland and Germany. Of these, 543 stores are in England, 47 are in Scotland, 28 are in Wales, 18 are in Northern Ireland, one is on the Isle of Man, one is a mobile unit, 48 are in the Republic of Ireland and two are in Germany.
Founded in 1960, Domino's Pizza is one of the world's leading pizza delivery brands. Through its primarily franchised system, Domino's Pizza operates a global network of more than 9,350 Domino's Pizza stores in 70 international markets. Domino's Pizza has a singular focus – the home delivery of pizza, freshly made to order with high quality ingredients.
Customers in the UK can order online at http://www.dominos.co.uk and customers in the Republic of Ireland can order online at http://www.dominos.ie. In addition, mobile customers can order by downloading Domino's free iPhone and Android apps.
About Somo
Somo is the leading independent European mobile marketing agency, specialising in strategy, design and build of mobile websites and applications, mobile advertising campaign planning and buying and campaign optimisation and management. Somo was founded by pioneers of the mobile marketing industry Nick Hynes and Carl Uminski. http://www.somoagency.com
For more information, please contact:
The Domino's Pizza Press Office
Domino's Pizza Group Ltd
Tel: 01908 580654
E: pr(at)dominos(dot)co(dot)uk
Ref: DPGL/CM/495
# # #