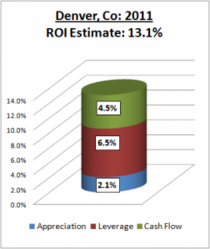 "The overall economics of Denver continue to be strong, making it a solid long-term investment market," said Jason Hartman, founder of Platinum Properties Investor Network, Inc. and host of The Creating Wealth Radio Show.
Irvine, CA (PRWEB) August 31, 2011
Jason Hartman, creator of the Complete Solution for Real Estate Investors™, suggests real estate investors nationwide consider Denver as one of his top 10 markets for purchasing income producing real estate. Denver area market values experienced a downward correction following the financial crisis of 2008 and showed signs of stabilization as 2009 transpired. But that stabilization was short-lived as the market experienced volatility moving out of 2009 and into today's market.
The principal value to property investors in Colorado is its attractive cash flow relative to market prices. Denver represents a major market area with characteristics that continue to be favorable for investment. This cash flow offers a significant advantage to investors in the Denver area in particular since it allows investors to ride out volatility in market values.
"The overall economics of Denver continue to be strong, making it a solid long-term investment market," said Jason Hartman, founder of Platinum Properties Investor Network, Inc. and host of The Creating Wealth Radio Show. "Short-term price fluctuations are likely to deter some investors. However, people who understand the inherent volatility of value appreciation and the importance of cash flows for the stability and long-term viability of investment properties recognize the long-term power of a market like Denver."
Hartman adds, "Astute investors understand that investment real estate is about much more than just leveraged value appreciation."
The cash flow generated by properties in the Denver market gives investors the power to wait for price improvement as the property cash flow exceeds the operating costs and mortgage payments. Denver experienced a modest run-up in values from the beginning of 2001 through the end of 2006. This was a more mild value inflation than occurred in many of the bubble markets, like Los Angeles, but was still enough to shift the mindshare of many investors onto appreciation as a source of value.
Fortunately, Denver has not experienced the extended escalation in values as many other bubble markets, resulting in healthy cash flows that are expected to exceed costs by a sufficient margin for investors to gain "staying power" while values in Denver regress back to fundamentals.
According RealtyTrac, Colorado is ranked 9th in foreclosure totals since the beginning of 2011. For all of Colorado, foreclosure activity dropped by 14.7 percent from the first half of 2010; however, the overall country showed a 29.3 percent year-over-year decline. Currently, one out of every 84 homes in Colorado is in some stage of foreclosure, compared with a national average of one out every 111.
Forecast Methodology
The ROI predictions for each individual market are based on three fundamental components, as income property, unlike other investments, is a multi-dimensional asset class. The first is component appreciation, which is based on a composite of forecasts from CNN Money, Fortune and Hartman's innovative Regression to Replacement Cost™ methodology. The second impact is leverage. The reason why Jason Hartman's methodology separates appreciation from leverage is to pinpoint how much value is coming from the asset itself and how much is coming from the impact of leveraged financing to purchase the asset. The final component of the ROI predictions is cash flow where income property can be compared to bonds and dividend-paying stocks.
Hartman's model is the only one of its kind that includes a full ROI build. Most forecast reports begin and end their analysis with value appreciation or depreciation. Hartman and his team understand the full dynamics of return on investment and have chosen to build and report a complete ROI analysis for each of the targeted market areas.
About Jason Hartman
One of America's foremost experts on long-term wealth creation through income property, Jason Hartman is the founder and CEO of Platinum Properties Investor Network, The Hartman Media Company, Open Door Auctions and The Jason Hartman Foundation. Starting with modest means as a 19-year-old college student, Jason Hartman embarked on a part-time career in real estate. Through creativity, persistence and hard work, he soon joined the ranks of the top one-percent of U.S. brokers and earned a number of prestigious industry awards.
By 1997, Hartman realized his entrepreneurial dream and turned around a failing real estate brokerage firm that he later sold to Coldwell Banker. He combined his dedication and business talents to become a successful entrepreneur, public speaker, author, and media personality. Hartman's highly sought after educational events, speaking engagements and his acclaimed "Creating Wealth" radio show inspire and empower hundreds of thousands of people in 26 countries worldwide.
Hartman's Platinum Properties Investor Network, Inc. is an innovative firm designed to help people achieve the American Dream of financial freedom via income property investment in prudent markets nationwide. His Complete Solution for Real Estate Investors™ is a comprehensive system providing real estate investors with education, research, resources and technology to handle all areas of their income property investment needs. For information, call 714-820-4200 or visit Jason Hartman online.
###