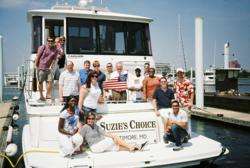 Back-to-school and flu season are by far the busiest times of year for us
Columbia, Maryland (PRWEB) August 31, 2011
Last week marked the first day of school for counties throughout Maryland, and the U.S., and for FLAVORx it marked the start of one of the busiest times of year for the Columbia-based small business. Founded over 15 years ago with the mission to "make medicine time less yucky," leadership, researchers, scientists and the team at FLAVORx have introduced 18 flavors to over 40,000 pharmacies around the country.
With over 50 million school-aged children back in the classroom, social settings and environments that encourage interaction where germs and bacteria can be present, the rate of illness requiring treatment by liquid medicine is about to rise. A young child may have six to eight upper respiratory tract infections and two or three gastrointestinal infections each year each requiring a prescription in order to get better. While the FLAVORx solution does not cure an illness, it plays a significant role in increasing adherence and compliance to prescribed treatments, allowing children to get better faster.
With parents or guardians approval, FLAVORx products can be added to over 450 medications, from Amoxicillin (Amoxil®) to Ranitidine (Zantac®) in pharmacies throughout the country as well as in Canada, Puerto Rico, Australia and New Zealand use the product on daily basis. The most popular flavors requested by children or their parents are bubble gum, grape and strawberry. To date, pharmacists have flavored over 47 million prescriptions using the FLAVORx system.
"Back-to-school and flu season are by far the busiest times of year for us," says Stuart R. Amos, CEO of FLAVORx. The Columbia, MD, headquarters where FLAVORx products are tested and shipped will make even larger daily shipments to Fortune 500 pharmacies like Walgreens, CVS, Target and Wal-Mart whom they supply on a daily basis. Fulfilling these orders means that FLAVORx expects to employ additional workers, providing a local positive impact through the nationwide distribution needs.
"FLAVORx has grown dramatically since its introduction to the market 15 years ago and that means doctors, pharmacists, parents and children believe in the positive experience that can be had at medicine time," Amos shares. Flavoring of medicine to improve compliance has become a standard practice in America's pharmacies and FLAVORx is widely regarded as the industry leader. "While we certainly don't enjoy the idea of children, or anyone, being sick, we take comfort in knowing that FLAVORx helps people get better faster," Amos continues. This year, FLAVORx will make medicine time less yucky for an ever increasing number of school children.
###