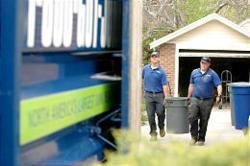 Once the water goes, people just want it cleaned up as quickly as possible, and we're able to benefit by filling that need.
Vancouver, BC (PRWEB) August 31, 2011
For junk removal company 1-800-GOT-JUNK?, Hurricane Irene had her own silver lining. In the area across the northeast where flooding and fallen tree limbs speak to the severity of the storm that recently passed through, but franchise partners are cleaning up – both literally and figuratively.
In Philadelphia, there were more than twice as many jobs on the schedule Monday as compared to an average day. In Boston, last minute add-ons were a constant stream. Crews in New Jersey are working twelve to fourteen hour days just to keep up with the demand, and Vermont is seeing their bookings rise swiftly even before the flood waters completely recede.
"We saw a big boost with the floods here in Vermont in the spring, and this looks like it will be even bigger," stated Aaron Fastman, the local franchise partner. "Once the water goes, people just want it cleaned up as quickly as possible, and we're able to benefit by filling that need."
1-800-GOT-JUNK? works directly with insurance companies, which, in addition to individual homeowners booking removal for less dramatic debris, is leaving franchise partners looking at packed schedules that they owe to the massive storm.
Irene wasn't the first disaster to benefit those in the business of cleaning up afterwards, and the company regularly finds itself cleaning up the mess left behind by floods, tornadoes and various smaller scale storms. While making a profit after a disaster is a delicate matter, the clients who call the company are generally just eager to get their homes back to normal; 1-800-GOT-JUNK? works to do so as swiftly and respectfully as possible. The crews working the twelve hour days are doing so, so that the people they service can get back to normal.
About 1-800-GOT-JUNK?
1-800-GOT-JUNK? is pioneering an industry that is helping residents and businesses remove junk and regain space. Whether it's a pile of household junk in the garage or a warehouse full of office furnishings, 1-800-GOT-JUNK? removes it for you, making the ordinary business of junk removal exceptional. We are passionate about recycling and donating to charity. 1-800-GOT-JUNK? was founded in 1989 and now operates throughout North America and Australia. For more information, visit http://www.1800gotjunk.com.
# # #