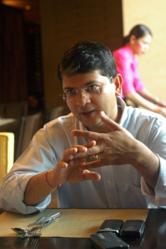 SMS GupShup's ambitious vision has enabled them to build a massive user base, assemble a world-class team and emerge as a star in the social media universe.
Santa Clara, CA / Mumbai, India (PRWEB) August 31, 2011
SMS GupShup, India's largest social network and group messaging provider, announces today that they have raised $10 million in funding. The company will use the funds to drive product innovation, increase sales and marketing, and expand globally. Tenaya Capital joins existing investors Globespan Capital Partners, Helion Ventures and Charles River Ventures in the Series E round, taking the company's total fund raise to $47 million.
"SMS GupShup has cemented itself as the dominant social network in India, demonstrating that the company truly understands the Indian consumer and their needs. We are also very excited about the company's opportunity to leverage its innovative product offerings to expand beyond India into other high growth emerging markets," states Brian Paul, Managing Director at Tenaya Capital.
"SMS GupShup's ambitious vision has enabled them to build a massive user base, assemble a world-class team and emerge as a star in the social media universe," Venky Ganesan, managing director of Globespan Capital, added.
SMS GupShup pioneered social networking in India and built its network on mobile messaging. Consumers use it to connect with their interests, while businesses use it to engage with their customers and employees. SMS GupShup derives revenues from its mobile marketing and mobile CRM solutions for large and small businesses. Recently, it unveiled group-messaging services with carriers across Asia.
"We never dreamed four years ago that we would become the leading communication platform in the biggest democracy in the world," said SMS GupShup co-founder and chief executive Beerud Sheth. "Our vision is to connect billions of mobile users worldwide through group messaging. Virtually anyone - whether a consumer, business, government agency or non-profit organization - can benefit from using our platform."
SMS GupShup has also added Ravi Sundararajan as VP of Marketing and Samir Parekh as VP of Human Resource to its senior management team. "The possibilities seems endless for a social networking platform that supports 50 million members, five million user-generated communities, 25,000 small businesses and 500 regional and international brands such as Nokia, Facebook, Pepsi and Sony" said Ravi Sundararajan. "SMS GupShup is in a great position to execute its aggressive market expansion strategy as it also has world class technology infrastructure that supports 12% of all mobile messaging in India."
To learn more about SMS GupShup, please visit http://www.smsgupshup.com
About SMS Gupshup
SMS GupShup was created with the vision to create group messaging for all. The SMS GupShup platform enables the creation of large Mobile Communities and Reply-All Chat, a revolutionary product that allows people to use SMS for communication in smaller groups.
Launched in April 2007, SMS GupShup is a lifeline that connects 50 million Asians via mobile device. The network is a combination of nearly 5 million communities that share content on topics such as finance, entertainment, lifestyle, health, sports and technology. Founded by seasoned Silicon Valley entrepreneurs and incubated at the IIT Bombay Business Incubator, the company is funded by Charles River Ventures, Helion Ventures, Globespan Capital and Tenaya Capital.
###