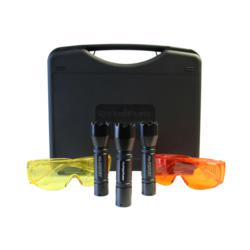 The Rook Kit now allows crime scene and forensic lab personnel to compare and document which wavelength(s) lead to the best evidence being seen.
Vista, CA (PRWEB) August 31, 2011
You can't find evidence that you can't see. FoxFury's revolutionary Rook Alternate Light Source(ALS) LED kit makes it easier to find forensic evidence and finally settles the debate over best wavelength(s). This ultraportable kit features dual wavelength UV (380 + 395 nm) and Blue (450 + 470 nm) light sources that can be powered with lithium or rechargeable batteries.
The Rook Blue and UV lights feature FoxFury's unique DuoPeak LED technology. Mode 1 of each light combines the two peak intensities from the two distinct wavelengths (450 nm and 470 nm in the case of the Rook blue), which provides more fluorescence or absorption compared to only one wavelength. The individual wavelengths can be selected individually in modes 2 and 3. The LEDs used in the Rook Blue and UV are very precise with a wavelength tolerance of ±3 nm, which means no light is wasted (outside the useful range).
"We've heard lots of debate as to which blue (450 vs. 470 nm) and UV (380 vs. 395 nm) wavelength is the best. The reality is that it changes according to the scene, materials that absorbed the substance in question, and the type of sample you are looking at (semen isn't urine). The Rook Kit now allows crime scene and forensic lab personnel to compare and document which wavelength(s) lead to the best evidence being seen. Using two peak wavelengths at the same time seems to yield the best results. We've been able to repeat those results when looking at DNA samples, ID cards, paper currency and in room inspection," said Mario Cugini, CEO of FoxFury.
Blue light is used in general crime scene search to look for blood, hairs, fibers and other trace evidence. UV light is used in crime scene search mostly to locate serological evidence including semen. UV light can also be used to inspect hotel rooms and bathrooms and to look for oil leaks.
Rook light sources are powered with lithium (two CR123) or rechargeable lithium (one 1860)batteries. Each Rook light weighs 4.8 oz (130 g) and has an aluminum 6061-T6 hard anodized housing.
The Rook R2A Forensic ALS Kit includes the Rook Blue, Rook UV, orange and yellow goggles and a carrying case. An optional 220 lumen white light can also be added to the kit (model R3A).
Lastly, we believe limericks aren't used enough in press releases so please enjoy this FoxFury first:
There now is a light called the Rook
that helps police ID a crook.
The light is blue or UV,
with 2 wavelengths to see
DNA in a cranny or nook.
About FoxFury:
FoxFury Lighting Solutions creates unique and cutting edge lighting products that reflect the needs of our customers, who demand quality and dependability. FoxFury is best known for its niche LED headlamps designed for specific markets including Fire, Industrial, Hazardous Area, Law Enforcement, Forensics and Recreational. FoxFury was formed in August 2003 and operates out of Vista, CA USA.
###