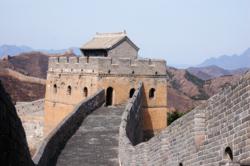 Washington, DC (PRWEB) August 31, 2011
AuthentiCity Travel is proud to announce a new partnership with Hanns Ebensten Travel (http://www.hetravel.com), provider of worldwide adventures in gay and lesbian travel. Together, they are offering a special "AuthentiCity China" program for gay men, lesbians, and friends, April 1-15, 2012.
For almost forty years, Hanns Ebensten Travel has offered high quality, exciting, and enlightening tours with a gay flair. Destinations include exotic places such as South Africa, Egypt, India and Easter Island, as well as intimate tours to more familiar destinations such as Italy and France. Small groups, personal attention, and a unique style distinguish them from other tour companies. Hanns Ebensten pioneered gay travel in 1972 when he took groups of gay men rafting through the Grand Canyon and to Carnival in Rio de Janeiro. Today the company is still going strong, offering a broad variety of exciting itineraries.
AuthentiCity Travel, purveyor of immersion travel experiences, was developed as a solution for travelers who want a deeper connection with community, culture, and people abroad. Guests will "travel deeper" in China and other cities by connecting with locals to better understand contemporary life, learn basic language skills to shop at a local market, and travel on the subway. They will also have plenty of time to veer off the beaten path and absorb unexpected moments. Travelers will also learn about the growing LGBT communities in China's urban areas.
The promotion of the China tour will debut at the Washington, DC-based Reel Affirmations Film Festival which takes place October 13-22, 2011. As a sponsor of the festival, AuthentiCity Travel will be reaching out to the LGBT audience through film trailers and promotions.
For more information on AuthentiCity departures, please contact Emilia Pawlowski at (202) 349-7346 or epawlowski(at)academic-travel(dot)com.
For more information on Hanns Ebensten Travel, please contact Philip Sheldon at (866) 294-8174 or hetravel(at)gmail(dot)com.
###