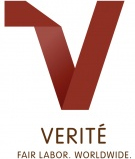 Amherst, MA (PRWEB) August 31, 2011
Dan Viederman, CEO of Verité, the global NGO that works with companies, suppliers and governments worldwide to create and maintain fair labor conditions, was today named Social Entrepreneur of the Year in the United States by the Geneva, Switzerland-based Schwab Foundation for Social Entrepreneurship. Verité is an international non-profit consulting, training, and research organization that has been a leader in supply social responsibility and sustainability for 15 years. Verité solves the most difficult supply chain human rights problems to help the most vulnerable workers around the world.
The Schwab Foundation for Social Entrepreneurship provides unparalleled platforms at the country, regional and global levels that highlight social entrepreneurship as a key element to advance societies and address social problems in an innovative and effective manner. The Foundation conducts an annual search for leading social entrepreneurs around the world and selects one from each of the countries identified to join the Foundation's global network.
Selected social entrepreneurs participate and are actively involved at the regional and global meetings of the World Economic Forum. These meetings offer unique opportunities for social entrepreneurs to connect with corporate, political, academic, media and other leaders. Social entrepreneurs participate in Forum initiatives, the conversations shaping the future agendas of industries, and are experts for the Forum's Global Agenda Councils. The Foundation works with selected companies to advance specific activities of social entrepreneurs or initiatives that support social entrepreneurship.
"This award is gratifying recognition of the impact Verité has had over the past 15 years, " says Viederman. "It's also an opportunity to get our solutions into the hands of more people who can use them--especially multinationals and their suppliers who have solvable problems in their supply chains."
Viederman adds, "The Schwab Foundation and the World Economic Forum attract impressive people who want to collaborate to solve social problems. They speak to the world's governments, as well as businesses from all over the world—not just western multinationals. It's a great place for Verité to share the ways we can help companies, and workers, too."
Verité's business-focused approach enables factories and farms to be able to meet customers' and compliance standards in a way that complements the company's business objectives.
Verité's list of clients is a Who's Who of the global economy, including Walmart, Gap, Apple, Levi's, The Home Depot, Philip Morris International,Mars, Manpower, HP, Disney, Starbucks, the Electronics Industry Citizenship Coalition, the Sustainable Apparel Coalition, The US Department of Labor, the US Department of State, the Inter-American Development Bank, the NY City Employees Retirement System, among others.
"Verité's model of engaging the private sector in multi-stakeholder partnerships to improve conditions for millions of the world's most vulnerable workers ensures that global economic growth is truly inclusive growth," explained Katherine Milligan, Head of North America for the Schwab Foundation. "This is directly aligned with the mission of the World Economic Forum, making Verité a valuable addition to the Schwab Foundation's community of leading social enterprises."
"Verité is a trend-setter and innovator. In their work to ensure that all people around the world work under safe, fair, and legal conditions, they have consistently shown that businesses can do well by acting responsibly and doing good," said Randy Newcomb, president and CEO of Humanity United. "As a foundation committed to ending all forms of modern-day slavery and human trafficking, we are proud to not only support Verité's work, but to call them partners in a shared mission. Humanity United congratulates all of Verité's hard working staff on this prestigious honor."
About Verité
Verité's mission is to ensure that people around the world work under safe, fair, and legal conditions. Today's complex supply chains pose challenges for implementing international labor standards at manufacturing and farm sites that collectively employ hundreds of millions of people. Verité has extensive expertise in apparel, footwear, electronics, agriculture, toy, and heavy industry supply chains, working both with brands—the consumer-facing companies that sell a finished good—and their suppliers, which are mostly farms and factories in developing countries. The organization assists in the identification, analysis, and resolution of labor rights problems like child labor, forced labor, discrimination, sexual harassment, excessive working hours, poor safety conditions, and wrongful termination. For more information, visit http://www.verite.org.
http://www.facebook.com/Veritefairlabor
http://www.twitter.com/#!/VeriteNews
About the Schwab Foundation
The Schwab Foundation for Social Entrepreneurship was co-founded by Klaus Schwab, Founder and Executive Chairman of the World Economic Forum, and his wife, Hilde. Since its inception in 2000, the Foundation has been identifying the world's leading social entrepreneurs in over 50 countries around the globe. Social entrepreneurs implement innovative and pragmatic solutions to social problems by tackling the root causes and creating social transformation. Selected social entrepreneurs of the Schwab Foundation network participate in World Economic Forum events, thus providing unique opportunities for them to connect with business, political and media leaders. Learn more about the Schwab Foundation at http://www.schwabfound.org
###