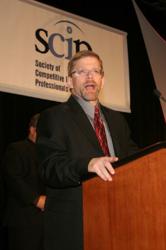 For the first time, business, market and competitive intelligence managers will have a tool to measure their comparative performance and systematically plan ahead to help elevate their skills and capabilities in solving real-world business problems.
Madison, Wisconsin (PRWEB) August 31, 2011
Dr. Craig S. Fleisher, Chief Learning Officer of intelligence firm Aurora WDC, will present interim findings from his pioneering global diagnostic survey measuring Analytical Fitness in competitive intelligence, market intelligence and business intelligence teams.
The ongoing survey is designed to provide a confidential, annual scorecard for intelligence managers to use in planning how to improve the skills and capabilities of their team. Dr. Fleisher's keynote address at the Competitive Intelligence Users Conference, to be given October 20th in Carmel, Indiana will present interim findings to-date from data aggregated across participating companies worldwide to interpret the trends driving how intelligence analysis is helping companies of all kinds solve real-world business problems. Conference attendees registering before September 9th using registration code "BITWISECI" will receive a $200 discount.
Dr. Fleisher is recognized worldwide for his expertise as a prolific author, trusted advisor and ground-breaking scholar on applying more than 300 analytical methods, processes and frameworks to solve real-world business problems. Dr. Fleisher joined Aurora WDC earlier this year in the new role of Chief Learning Officer following a 25-year academic career as a professor, researcher, department chair and dean of schools of business and management in leading universities worldwide.
Participation in the survey is invitation-only. Request an invitation by emailing "Survey(at)AuroraWDC(dot)com" - all applicants will receive instructions about how to participate and should plan to attend the CI Users Conference October 20-21 in Carmel, Indiana for a first look at overall results.
###