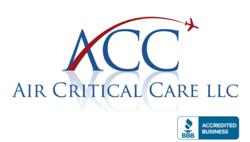 "Air Ambulance Patient Safety ,Protection and Coordination Act" which was introduced by Rep Candice Miller, (R) of Michigan in March that would cripple the air ambulance services
Punta Gorda, FL (PRWEB) August 31, 2011
Air Critical Care the parent of ACC MEDLINK., a leader in medical transportation services, revealed their new growth plans for the Medical Transportation industry this week. Air Critical Care comes out with new locations after a record month in August. ACC Medlink a division of Air Critical Care has received the first order of ground medical transport vehicles with the addition units due to be delivered by year end.
ACC Medlinks parent company, Air Critical Care LLC. is an accredited leader in air medical transport service based in southwest Florida with offices throughout Florida and several states including air ambulance in New York, North Carolina, Michigan and Arizona. Air Critical Care provides worldwide air ambulance service transporting patients long distances in medically configured jet aircraft equipped as flying intensive care units and escorting patients on commercial airlines.
During the press conference Mr. Michael Peat outlined the corporate expansion plans which included new corporate offices in southwest Florida, increasing the ground and aircraft medical transport fleets in Florida. However, Peat said, that even with record sales there is some Federal legislative actions namely H.R 1117 "Air Ambulance Patient Safety ,Protection and Coordination Act "which was introduced by Rep Candice Miller, (R) of Michigan in March that would cripple the air ambulance services and would restrict future hiring and expansion plans in 2012 as that piece of legislation would easily triple the cost of air medical transportation and that would make air ambulance only available to the ultra-rich. Mr. Peat said he had attempted to contract Rep Miller without success.
ACC Medlinks mission is to compliment air medical transportation with a cost effective option to air ambulance services, by offering non-emergency long distance medical transportation to patients that qualify. Many families struggle with the cost of the more expensive air medical transportation. ACC Medlinks provides that alternative. According to Mr. Peat , "A majority of air medical customers require no medical services but are unable to be transported by standard commercial airline or require just personal assistance." ACC Medlinks long distance medical transportation service will offer families a cost effective option approximately half the cost of an Air Medical flight.
# # #