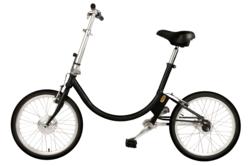 "This innovative product will be a huge hit with our guests who care deeply about the environment."
West Hollywood, CA (PRWEB) August 31, 2011
Conscious Commuter Corporation, a startup helping shape the future of sustainable commuting, is joining forces with the entertainment community to raise awareness of their eco-friendly electric folding bike as a green alternative to daily auto commuting.
Conscious Commuter™'s lightweight, compact folding electric bike solves the problem of the first and last mile commute – providing current automobile commuters with an eco-friendly alternative that seamlessly ties into existing public transportation.
The Environmental Media Association (EMA) is a pioneer in linking the power of celebrity to environmental awareness, mobilizing the entertainment industry in educating people about environmental issues. It was the EMA who invented the 'green carpet,' launching the concept of taking a hybrid or alternative fuel vehicle - not a limo - to high profile awards events and bringing the concept of alternative automotive technology to millions of previously unaware households. To help support the efforts of EMA, one of Conscious Commuter's first prototype folding e-bikes will be auctioned off for charity at the 21st Annual Environmental Awards on October 15, 2011 at Warner Bros. Studios in Burbank, CA.
"We are very excited to have one of their first prototype e-bikes in the EMA Awards Silent Auction," said Lisa Barnet, Director of Public Relations and Special Events for EMA. "This innovative product will be a huge hit with our guests who care deeply about the environment."
In addition to reducing air pollution in one's daily commute, Conscious Commuter's folding electric bike is manufactured out of recycled aluminum. Using hydropower from Oregon's Columbia River, smelters recycle the aluminum used for the folding e-bike frame. The product can also be recycled at the end of its life cycle, going into the production of other recycled aluminum products.
The choice to manufacture and build the folding e-bike in the U.S. was also an environmentally driven decision. 99.7% of all bicycles and e-bikes sold in the U.S. are currently manufactured in China or Taiwan and then shipped to the U.S. in cargo container ships with up to 2,000 times the sulfur content of diesel fuel used in US, and European automobiles. Manufacturing and building the e-bike in the U.S. eliminates this pollution and creates jobs in the U.S.
"I am humbled that the folks at EMA think my folding electric bike will be such a hit at their fundraising auction," said Gabriel Wartofsky, Conscious Commuter Corp. Vice President and Chief Technical Officer. "I truly believe in the sustainability of this project from all angles and hope eco-conscious attendees feel the same."
Giving back to worthy causes is in the DNA of the startup. Both of the founders' mothers recently passed away from Alzheimer's, and the duo are forming a foundation to help find a cure for the disease. In addition to donating their folding e-bike for EMA's charity auction, Conscious Commuter will support EMA in their fundraising efforts to mobilize the entertainment industry in educating people about environmental issues.
About Conscious Commuter Corporation
Conscious Commuter Corporation is helping shape the future of urban mobility by solving the first and last mile commute problem. Conscious Commuter's lightweight, intuitively folding electric bike empowers users to get to the nearest bus stop or rail station, and, after commuting, to get to their office – grease free and without a sweat
For more information on Conscous Commuter Corporation, please go to our Facebook page, Twitter account, or our designer's blog.
Conscious Commuter is a trademark of Conscious Commuter Corporation. All other names mentioned herein may be trademarks of their respective owners.
# # #