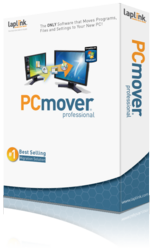 PCmover consistently outperforms its competition.
Bellevue, WA (PRWEB) August 31, 2011
Laplink Software, Inc. was recently recognized by TopTenREVIEWS as the developer of the best migration software available. PCmover® surpassed numerous competitors on its way to receiving the prestigious Gold Award from the popular reviews publication.
TopTenREVIEWS named PCmover number-one in the PC migration software category out as it performed other products such as Zinstall's WinWin and XP7 as well as Parallels Desktop. This proves PCmover is the only software that easily moves programs, files and settings from an old PC to a new one. It can also transfer the contents of an old hard drive (or image) to a new PC and performs an in-place upgrade of an existing XP® PC to Windows® 7, which is still not supported by Microsoft.
"PCmover consistently outperforms its competition," commented Laplink CEO Thomas Koll. "Users and reviewers are recognizing that we provide the easiest way to upgrade to a new PC and we will continue to build on that as new versions come out with new and improved features."
Some products transfer files but not programs. Other products transfer the entire PC into a "Virtual Machine" (VM) on a new PC which causes many problems. It is a time-consuming and complicated process which still leaves the user on the old operating system and opens them up to the possibility of engaging in software piracy! Virtual instances of XP® will be rendered useless as Microsoft has announced it will soon discontinue support of the old OS. For a complete migration to Windows 7, PC users should use PCmover.
Laplink is currently working on the next version of PCmover that will bring with it a number of new features, improvements on existing features and a "face-lift" for the user interface.
PCmover is available in five editions to solve every migration need and is offered at http://www.laplink.com or in most major software retail stores in the US, Canada, Europe and Asia.
About Laplink Software, Inc.
For nearly 30 years, Laplink has been the global leader in PC migration, file transfer, synchronization and remote access. Its innovative products and technology allow for the fastest file transfers and synchronization as well as protect users from data loss and identity theft. The privately-held company was founded in 1983 and is headquartered in Bellevue, Washington.
# # #