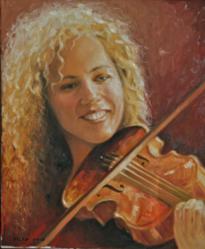 Mira is one of those rare thematic artists that play on our artistic and personal emotions by portraying unforgettable characters, expressing love, regret and anguish.
New York, NY (PRWEB) August 31, 2011
Born in 1965 in a small, ultra-orthodox Israeli city named Bnei-Brak, Mira Sassoon was a child devoted to religious studies. Raised in a large, closely-knit family and community, she attended Orthodox Judaic schools and was expected to concentrate only on studying her religion and the Torah. But the desire to express herself through drawing and painting profoundly permeated her soul and Mira would have to honor both worlds.
For as long as she could, she hid her rare talent. Secret places concealed her early works from others who would not approve. At the tender age of ten, Mira called upon all her inner strength and courage and began to skillfully draw in pencil and chalk. But when word got out, she was labeled a rebellious daughter. Even her encouraging teacher at school had to condemn her artistic efforts, which were shockingly beyond her years and often dealt with mature conflicts and things forbidden.
As if directed by the hand of God, a serious car accident at age 22, forced this driven artist to rehabilitate herself through constant painting. She could no longer quell the creative impulses inside and she realized life was too short to deprive her passion.
At the age of 35, in addition to working on fascinating paintings and projects, Mira added narration to a series of sketches and discovered her love and talent for storytelling. She began authoring exquisitely illustrated children's books and wrote a weekly article for a community newspaper. Her books are published and distributed in Israel and are being translated to English for release in North America.
Mira Sasson is currently working on a series of portraits of singers who have recorded Songs To Fight Cancer for Pioneers For A Cure to raise funds for cancer treatment, cancer research, and cancer care. Mira's portraits are available through Zazzle.com as US Postage to raise even more crucial funds.
No one could or would stop an artistic genius whose time has come. For Mira, each step on her journey towards merging her spirituality with her art has produced a dramatic and moving collection of portraits, still life, and landscapes, the quality of which outdistances the competition at most any exhibit. Rustic and realistic themes burst with bright amber light bordered by warm, dark brown shadows that contrastingly loom in every crevice and corner. Folds of textured fabrics like linen and satin, majestically drape her subjects and backgrounds in a masterful way. And those faces! You will stare and stare in empathy and wonder, as you realize you are in the middle of memory and know that haunting look will remain a part of you for a lifetime.
Mira is one of those rare thematic artists that play on our artistic and personal emotions by portraying unforgettable characters, expressing love, regret and anguish. Her children are chiseled with naïve exquisiteness and possess all-knowing stares that will make you breathlessly wonder -- until you move on from the Mira Sasson painting you will never forget.
Pioneers For A Cure - Songs To Fight Cancer is the largest showcase of cancer charities on the web. Called '[A] stellar model of artist-driven grassroots philanthropy' by National Geographic, the non-profit project records public domain songs, reinterpreted and made available for donations of as little as $1.99. This treasure trove of over 100 songs has been recorded by dozens of artists from around the world including Suzanne Vega, Ben E. King, Tom Chapin, Tom Verlaine, Matt White and David Broza. Proceeds from song downloads are donated to artist-selected cancer charities such as the American Cancer Society, St. Jude Children's Hospital, the Breast Cancer Research Foundation, and Susan G. Koman for the Cure.
Please contact Pioneers For A Cure for more information, reviews and other press requests.
###