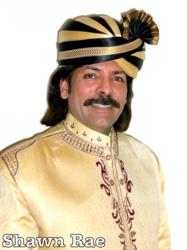 My Grown-Up Christmas List reflects Shawn Rae's hope for the world: "No more lives torn apart … wars that never start … right would always win … and love would never end."
(PRWEB) August 31, 2011
Shawn Rae's unique Christmas Album, "A World Christmas, Love Knows No Borders" was inspired by the "Dialogue" in 2007 between King Abdullah of Saudi Arabia and Pope Benedict XVI, one, which was endorsed by more than 460 organizations from around the world, including the Chief Rabbis of Israel, and the United Nations. This "Dialogue" promoted a wide discussion on the urgency for religious and cultural discourse among Christians, Muslims and Jews.
Marco Politi, the Vatican correspondent said, "I think it is extraordinarily important that… the Vatican and an important Islamic state discussed "cooperation". An article in the Vatican newspaper noted, " A dialogue is not a choice but a necessity."
King Abdullah of Saudi Arabia, the first Muslim King to ever visit the Vatican in the past 1400 years, referred to his conversation with the Pope as "groundbreaking." "I wanted to visit the Vatican, and I did, and I thank him. In a meeting I will not forget, a meeting of one human being with another. I suggested this idea". He responded, "If God wills it, we will then meet with our brothers from other religions … to come up with ways to safeguard humanity."
This Christmas Album from the Muslim world in respect of Christianity was an effort by the Muslim world to help bridge gaps through the medium of music between the three Abrahamic faiths. Without such a "Dialogue," the Album might seem to be an unlikely overture. Instead a cross-cultural team of musicians, writers, technicians, vocalists – and celebrated music arranger Charles Calello – gathered together to create it.
Shawn Rae's desire to create a musical treasure for listeners of any faith has proved to be a great success. According to a music review of the Christmas album, "Shawn Rae's engaging baritone conjures the sunny-snowy-starry moods of Yule settings everywhere: cherishing the love between families, lovers and friends, enhancing romance, heady dreams, longing, anticipation, joy and hope. Calello's genius shines through in artfully bringing together lush strings, whimsical flutes, bold horns, playful bells and tinkling chimes, swinging ballads and nostalgic rhythms.
My Grown-Up Christmas List reflects Shawn Rae's hope for the world: "No more lives torn apart … wars that never start … right would always win … and love would never end." He sings light-hearted Feliz Navidad in English and Spanish, as background voices echo the merry message in Hebrew, Arabic, French, Greek, Iraqi, Urdu, Italian, Chinese and several others. "Listen to A World Christmas, and you just might hear yourself." (CD Review)
###