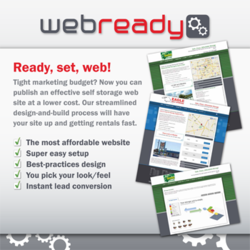 The initial response to WebReady has been overwhelming. Basically, what we're hearing is, 'This looks great - sign me up!' -Marc Smith
(PRWEB) August 31, 2011
Red Nova Labs saw a need on the web for small-scale self storage operators. Many lacked a web presence entirely, and for those that did have sites, many had usability issues and designs that were outdated. As a solution, Red Nova Labs created WebReady.
WebReady is a service that creates high-end self storage websites with sophisticated development, content management tools, ongoing Search Engine Optimization (SEO) services, local business optimization for local search and web marketing consulting on an ongoing basis. Red Nova Labs will launch the service Sept. 7-9 at the Self Storage Association Conference and Tradeshow in Las Vegas, but buzz has already been generated with owners who have received a sneak peak.
"The initial response to WebReady has been overwhelming," said Marc Smith, Director of Business Development at Red Nova Labs. "Basically, what we're hearing is, 'This looks great - sign me up!' And why wouldn't it be? If you're offering a modern website optimized for today's Google search and it only costs $499 per year including hosting, it's the best resource you've never had.
"These owners have worked very hard and they take so much pride in their stores, we're just giving them the tools to fight on equal ground on the web."
WebReady is a templated website with hundreds of different design combinations to choose from. Once an operator chooses a design package, the websites are built with a company landing page and additional landing pages for each facility. Each website also includes Red Nova Labs' patented self storage calculator and storage tips, providing a comprehensive end-user experience.
"Large owners have been early to market with web platforms of all sizes and shapes including a major transfer of their marketing expenses from Yellow Pages to their own websites and they've been doing it for years," Smith said. "But for storage, the story is still proximity, especially on the web. That's why WebReady is such an important piece for owners with a smaller portfolio, including those with only one store. A well-designed for SEO, well-designed for conversion website is critical for the smaller owner, so that as Google continues to reward local content, you're in the right position and ready to convert interest into rentals."
Red Nova Labs has made a name for itself by helping turn interest into rentals. The company entered the self storage market when it launched StorageFront.com in 2009. StorageFront is a web marketing resource that serves both storage operators and renters with an advanced search engine. Red Nova Labs used much of the technology and knowledge it gained with StorageFront to launch WebReady and WebWorks, which launched earlier this year for larger operators.
"There's a need in the market," said Dan Miller, Red Nova Labs CEO. "People that own 10 or more facilities have the wherewithal and the need in the market to develop their own custom websites, and they should have budgets where they can do ongoing SEO, and they should be able to be competitive in most market places. That's really where the WebWorks' product fits in. But then you've got people with less than 10 facilities that don't need that kind of an expense and the level of SEO to be competitive in their market places, especially if their market places are less competitive."
WebReady provides clients with an option for SEO service on an ongoing basis, but Miller said it is not mandatory. He suggests it for operators in a non-competitive market; however, he says it is not for everybody and that's why they make it optional.
"We shouldn't be offering SEO services to somebody in a dense and competitive market if they've got one facility and they've got no chance," Miller said. "Their best option for a web presence is WebReady."
Chris Klein, who runs the Inside Sales team for WebReady, said StorageFront and other models like it have made small operators aware of the power of the Internet for self storage. So when he has started to tell smaller operators about WebReady, it has been an easy sell.
"Eight out of 10 renters are using the web to find storage," Klein said, "and it is important to have a company that knows the markets and delivers websites with the design that the search engines are requiring. Webready will be that solution."
###