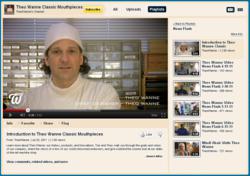 May our products help you access and express your deepest brilliance & inspiration. May your brilliance & inspiration, in turn, spread to the rest of the world! - Theo Wanne
Bellingham, WA (PRWEB) August 31, 2011
Theo Wanne's new company video explains why and how the company makes the highest quality and most innovative woodwind mouthpieces and accessories in the world.
Theo Wanne Classic Mouthpieces is a collaboration of skills shared between the twin brothers Theo and Tom Wanne. Theo is the eminent world expert on saxophone mouthpieces with decades of experience in the industry and is legendary for his work with the highest caliber pros around the world. Tom has a background in business, software, physics and computer science. Together they are revolutionizing the design, manufacturing, and business of woodwind mouthpieces.
Theo Wanne Classic Mouthpieces makes 40 models of mouthpieces, leveraging its partnership and integration with one of the best machine shops in the world. Theo Wanne is setting an unprecedented pace for musical instrument innovation.
World renowned saxophone musician, Nelson Rangell, says, "Theo's mouthpieces have been a revelation! The craftsmanship is at the highest level, his insights are comprehensive and clear. All of his pieces will be great aids in helping advance a player's expressiveness and voice.Theo is actively and sensitively evolving the art and science of mouthpiece making and raising the bar within the industry."
Tom Wanne, CEO, says, ""Being the world's premier mouthpiece, manufacturer we are attracting the world's top musicians, dealers and distributors, and are now being approached by other mouthpiece companies looking for higher quality OEM products as well."
Theo Wanne is legendary for making revolutionary products that inspire musicians. Join the Revolution!
###