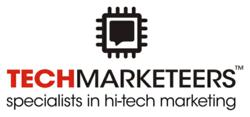 TechMarketeers has structured itself to do familiar things in new ways and lead the innovation of new things.
Phoenix, Az (PRWEB) August 31, 2011
TechMarketeers, LLC, a Phoenix-based marketing company that provides strategy, planning and communications services specifically for hi-tech companies, recently celebrated its first anniversary. Recognizing the opportunity created by key changes in corporate operations, TechMarketeers structured their business model accordingly and established a new business in spite of the economic downturn. The result was a solid first year and an optimistic view of 2012 with plans for further expansion.
"Our belief is that companies realize that we will not be going back to what was called business-as-usual," said Jon Kenton, TechMarketeers CEO. "Companies are examining not only what they do, but also why they do it. This review leads to a reevaluation that is more than simply trying to improve marketing efficiency. It leads to new ways of doing things but also to new things to do. TechMarketeers has structured itself to do familiar things in new ways and lead the innovation of new things."
TechMarketeers brings over 75 years worth of Fortune 500 hi-tech experience to companies ranging from start-ups to established corporations. Their market knowledge and experience is their differentiation as learning curves are extremely short. TechMarketeers provide a range of marketing services from strategy development to full creative design and production. Reacting to today's economic environment, the company has seen a great deal of activity in how to get more value from demand generation, marketing events such as tradeshows and in the use of new social media tools in businesses of all sizes. There has also been a high demand for technology fluent written communications such as newsletters, articles, blogs and white papers.
An early trend that benefitted the company was the recognition that business opportunity was not restricted to the local area. In today's connected world, organizations are not limited in where their customers come from. Using familiar networking techniques, TechMarketeers has developed customers locally, nationally and internationally in locations such as Phoenix, Southern California, France and Taiwan.
"As long as you provide value to your customers, they can be anywhere," continued Kenton. "This is especially true in our focus area of marketing where a great deal of marketing involves the Internet."
The second trend that TechMarketeers capitalized on was that in today's world of overwhelming communications, it is critical that companies deliver meaningful information to their prospects and customers whether via their website, new social media technology or traditional advertising.
"TechMarketeers has succeeded because it is built around a highly experienced, market-knowledgeable team that delivers great content that rises above the enormous amount of meaningless chatter out there," concluded Kenton. "We have followed the two most important rules in starting a business, know your customers and deliver what they want. We are looking forward to continuing to do exactly that and growing our company accordingly."
About TechMarketeers
TechMarketeers is a specialist marketing services company focused solely on the hi-tech Industry. The team has over 75 years of hi-technology marketing experience and has worked with organizations ranging from startups to Fortune 500 companies such as Motorola, Digital Equipment, Silicon Graphics, Intel and IBM. TechMarketeers' combine specialized expertise in marketing strategy and communications, graphic design, web development and Internet marketing with an in-depth knowledge of the telecommunications and networking, enterprise server, storage, high-performance computing and software markets. This unique blend of hi-tech fluency, marketing experience and a thorough understanding of the technology of marketing allows TechMarketeers to help their clients achieve their marketing goals.
###