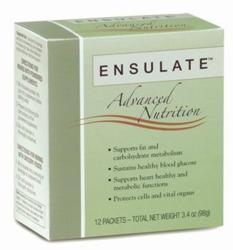 It's not a cure for diabetes but along with eating well, losing weight, and exercising, Ensulate can become part of the strategy to ward off, reverse, or treat diabetes
Tarrytown, NY (PRWEB) August 31, 2011
Ensulate is a soluble, flavorless powder which contains proven nutrients and dietary fibers that help diabetic and pre-diabetic dieters. When added to prepared or grocery foods it provides a wealth of essential nutrition including: a unique Dietary Fiber Blend, Magnesium and Chromium, Resveratrol (the active component in red wine), CoEnzyme Q10, and Vitamin B12, C, D, E, Calcium, Thiamine, Folate, Biotin, and Zinc. The special formulation is designed to benefit insulin resistant, pre-diabetic, and those with Type II Diabetes Mellitus during weight loss. Ensulate is a good complement to healthy eating but works best with any of the Focus28 Weight Loss Programs, especially the new Focus28 Diabetic-Friendly Meal Plans.
"The nutrient combination in Ensulate is a terrific and powerful salvo in the war against diabetes in America," said Mitch Suss, CEO of Focus28. "We wanted to have an easy-to-use product that with little effort can make a big difference in your anti-diabetes eating. Sprinkle a packet on hot or cold meals and you're helping to fight diabetes."
Dieters can simply add Ensulate to milk or fruit juice during breakfast, add it to soups or mix with salad dressings for lunch, and add it to entrée sauces, mashed potatoes, apple sauce or beverages at dinner. Ensulate mixes completely and does not alter the taste of food. But it does deliver a big diabetic focused payload of nutrition. "It's not a cure for diabetes but along with eating well, losing weight, and exercising, Ensulate can become part of the strategy to ward off, reverse, or treat diabetes," stated Mitch. To learn more about Ensulate or to purchase, visit Focus28's website.
About Focus28 Diet, Inc.
Focus28 Diet started out treating post-op bariatric surgery patients. Their success in developing programs specific to the needs of bariatric patients and their long-term maintenance led directly to the development of the Focus28 Weight Loss solution. The Focus28 weight loss approach promotes protein enhanced diet foods that safely and effectively impact weight loss through calorie reduction, exercise, and continual support. Focus28's programs include meal replacements, supplements, and snacks that keep you eating every 2-3 hours so you're never hungry. The higher protein amount keeps energy levels up, increases metabolism, and maintains and promotes lean muscle. The combination of delicious diet foods, the proprietary Iso-Towel Workout, and patient support has proven a successful formula for weight loss.
###