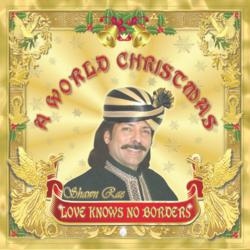 "The journey to create the CD absolutely confirmed every ancient principle of brotherly and sisterly bonds. It was deeply profound to stand together, in this way, and for this cause."
(PRWEB) August 31, 2011
Shawn Rae, A Pakistan-American sings the first Christmas CD/Album from the Muslim World. After the villain in the failed Times Square bombing attempt was identified as a Pakistani-American, media in the United States -- and in some other parts of the West – began to negatively regard Faisal Shahzad's Pakistani birthplace.
Amidst the overall declining vibe about Pakistan, efforts of Shawn Rae -- a far different Pakistani-American -- have stirred up some legitimate optimism about the very real potential for greater East-West understanding.
Well before the terrorism scare recently perpetrated on Manhattan, Shawn Rae was garnering extremely positive reactions to his cross-cultural hopefulness for an appreciation of common ground among all peoples.
Indeed, a Pakistani-American may seem an unlikely candidate to have recorded the first album of its kind, Christmas classics for 2010, from the Muslim world. Given widespread assumptions in the West about Muslim feelings towards Christians, it was equally improbable that Shawn Rae's international tour to promote his latest CD would spark such positive media attention. Rae traveled throughout Europe, the Middle East and Pakistan, seeking to gauge the reactions of Muslims to his CD, A World Christmas, Love Knows No Borders (arranged by World Class Arranger Charles Calello, whose many credits include 38 Top Ten Hits, an unbeaten record by any other U.S. arranger, 15 of which have been nominated for Grammy Awards, and over 100 songs on the Billboard Charts. Calello has Arranged and/or Produced music for such legendary stars as: Frank Sinatra, Barbra Streisand, Ray Charles, Stevie Wonder, Neil Diamond, Kenny Rogers, Bruce Springsteen, Frankie Valli, The Four Seasons and many others).
In Pakistan alone, the singer's interfaith harmony mission resulted in interviews with bureau chiefs, editors and reporters. Those conversations led to 22 published newspaper and magazine articles, speeches to three national press clubs, fourteen TV broadcast news mentions, radio interviews, and guest appearances on five TV talk shows.
Shawn Rae's odyssey began in Miami, with stops in London, the Vatican, Jerusalem, Istanbul, Riyadh and Dubai; later, he visited Lahore, Islamabad and Karachi, in Pakistan. He has been invited by the Indian Press to continue the tour with visits to Bombay and New Delhi in India.
"Muslims and people of other faiths, including Christians, Jews, Hindus and others that I encountered on this interfaith harmony mission were genuinely interested. They found the idea of a Christmas CD thoroughly engaging, at least partly, because they realize that people everywhere are tired of war and strife," said Rae.
After living in America's "melting pot" for 30-plus years, Shawn Rae considers himself to be an amalgam of all that his ancestral heritage represents, and a partner in all that his American citizenship symbolizes.
Shawn became an American Citizen more than two decades ago after getting his education in both the U.S. and Pakistan. U.S. citizenship was a commitment he made in light of his deep appreciation for America's role as a beacon of light and hope. Even so, he thinks of himself largely as a son of the Earth whose spirit hungers for a kinder, more unified universe.
This all began on Nov. 6, 2007, when he was inspired by the portent of an extraordinary event, as King Abdullah of Saudi Arabia and Pope Benedict XVI shared their historic face-to-face meeting at the Vatican. Half a world away from that setting, Shawn Rae sat transfixed by the television image of Christians and Muslims, more than half the population of the world, finding common ground. As someone born in the East and acclimated to the West for so long, he was moved beyond words:
"At this unprecedented summit, two formerly-polarized leaders cracked open a small window of hope, a window that could be opened even wider. As someone who understands and appreciates both East and West, I realized the urgent necessity to build on what these overtures represented."
Shawn Rae's approach was both simple and profound. He devoted the next two years to recording an album of Christmas classics to share with people of all religions. To make it happen, he put in place a team that would span all beliefs, including Christians, Jews and Muslims working side-by-side to create and record a CD, a process that Shawn Rae found as inspiring as that summit in Rome:
"The journey to create the CD absolutely confirmed every ancient principle of brotherly and sisterly bonds. It was deeply profound to stand together, in this way, and for this cause."
For a 5 minute Television interview example, http://www.youtube.com/watch?v=S4E7gm-BUE0, Shawn Rae Video Biography, http://www.youtube.com/watch?v=O0tp7ZmtTJo. For information on Shawn Rae's Perfume, Oneness by Shawn Rae, and book, The World of Perfumes & Fragrances by Shawn Rae, visit http://www.ShawnRae.com
###