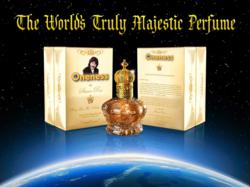 Think Noble, Feel Noble, Be Noble
(PRWEB) August 31, 2011
With the shelves of perfume counters full of every type of perfume advertising sex, romance or beauty, Shawn Rae's Oneness Perfume distinguishes itself, "I wanted it to evoke a deeper and more meaningful global message," said Rae who was born in the East and now lives in the West.
Oneness Perfume is worn by individuals, both men and women, who consider themselves to be balanced, confident and enlightened. These people know who they are and are journeying towards the heights of their individual paradigm. To wear Oneness Perfume is to be reminded of your noble birthright, your relationship to the Universe, and all things.
Rae believes now more than at any other time that our positivity and concern for others is extremely important. For this reason he is re-introducing the Oneness Perfume globally. Knowing that a scent can possibly change our moods, he believes that aromachology can also help deliver the message of peace. Aromachology is the interrelationship of psychology and fragrance. A fragrance transmits a specific feeling directly to the brain, giving the wearer an uplifting reaction. The first whiff of perfume or sound of a new musical composition is like the overture or the 'top" note. Next, using a musical analogy, follows the chorus of the fragrance or what is known as the "middle note". This is what is called the heart of the fragrance that remains on longest before the final "base note" comes into play when the fragrance has developed to its very fullest, lingering on the skin for many hours.
Just as scents have evolved from basic to more complex fragrances, so has universal consciousness.
In addition to Oneness Perfume, Rae has recorded an album of Christmas classics which is presently debuting worldwide. The Christmas album was the result of the historic meeting at the Vatican between King Abdullah of Saudi Arabia and Pope Benedict XVI who vowed to find common ground between religions. The result of this multi-ethnic, multi-national effort is already known to many through Rae's, A World Christmas, Love Knows No Borders, "Christians, Jews and Muslims worked side-by-side along with individuals of other faiths throughout the entire process of recording and creating this CD," said Rae.
For Rae, whose own remarkable journey has taken him from the foothills of the Himalayas through refugee camps to world stages as an acclaimed performer, the CD and the Oneness Perfume both reinforce a notion that his own experience confirms. "I stand as a witness that despite peoples' outward appearances and differences, the majority of human beings share a common bond of nobility with one another."
A portion of the proceeds from Oneness Perfume will be donated to groups and organizations involved in world peace initiatives.
For information about Shawn Rae's Love Knows No Borders tour, or to schedule an interview, contact Dawn Carr at 561.245.1191 or email at dcarr42(at)gmail(dot)com. For Shawn Rae Video Biography click on http://www.youtube.com/watch?v=O0tp7ZmtTJo. For more information visit, http://www.ShawnRae.com.
# # #