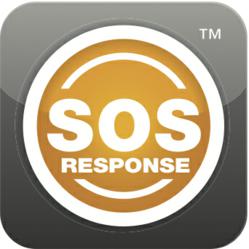 Vancouver, BC (PRWEB) August 31, 2011
Securiguard will launch the new SOS Response mobile app at the upcoming ASIS 2011 security conference in Orlando Florida, starting September 19, 2011, in booth 2378.
SOS Response is an innovative smartphone app which provides 24/7 professional monitoring assistance. When used, it automatically sends valuable images (30 pictures in 30 seconds), the senders GPS location and other information to a 24/7 professional monitoring team. With these real-time visuals, trained operators instantly assess and deploy the ideal response, whether that's a guard, ambulance, police officer or other service.
"SOS Response increases the accessibility of security services, particularly in work-alone situations", said Nigel Bullers, VP of Operations at Securiguard. "With cell phone coverage now blanketing North America, we are ensuring that people can quickly and effectively request professional assistance at any time. Securiguard is very excited to be launching this combined product and service at ASIS 2011".
SOS Response was designed expressly for Securiguard by EvidencePix Ltd.
About Securiguard
With 37 years of professional security experience, Securiguard Services Ltd. is a Canadian company based in Vancouver, BC. Securiguard has five regional offices throughout British Columbia and Alberta, and retains additional offices overseas in Abu Dhabi and Dubai, all of which will be offering SOS Response to their existing customer base.
Securiguard is currently looking to expand coverage for SOS Response worldwide through licensees across the United States, Canada and globally.
About EvidencePix Inc.
With offices in Vancouver and Palo Alto, EvidencePix Inc. is a leader in automated visual data capture, transmission and secure storage using the patented EPIX Process™.
For more information:
Nigel Bullers, Vice President Operations, Securiguard International Ltd.
+604-685-6011, nigel(at)securiguard(dot)com
http://www.securiguard.com ; http://www.sos-response.com
Trevor Small, Vice President, EvidencePix Inc.
+604-612-9662, trevor(at)evidencepix(dot)com
http://www.evidencepix.com
###