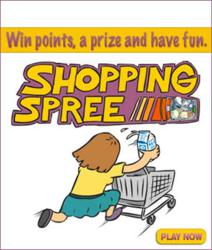 Boston, MA (PRWEB) September 22, 2011
YoFreeSamples, a free samples and coupon site, released "Shopping Spree," an online interactive game, as coupon lovers and brands everywhere celebrate National Coupon Month.
Shopping Spree enables YoFreeSamples' nearly 150,000 subscribers to compete in this challenging, top-down racing game. The grand prize goes to the grocery store guru who is best able to maneuver their cart through aisles, obstacles, and spills along the way. Players compete against top scorers for the chances to win gift cards. This month's launch boasts a $25 gift card prize - smart shopping and smart fun rolled into one.
John Clark, the site's founder comments, "The game was designed to engage users in a fun and friendly way with a reward. Our users understand value. We are enthusiastic about the possibilities in online and app capabilities." Clark adds that the company plans to launch a new site by the year's end.
September is National Coupon Month and spenders have already saved $2 billion this year. Promotion Marketing Association, Inc. (PMA) first introduced the campaign 14 years ago with the purpose raising awareness and increasing coupon usage. Recent PMA statistics show an overall increase in coupon use throughout the market, including gender, age, and socioeconomic status and companies are responding. In 2010, manufacturers offered consumers $485 billion in savings - a 13.9% increase from 2009 numbers and a 47.4% growth from five years prior.
National Coupon month sparks awareness for those who have yet to realize the rising costs at checkouts or those who are hesitant to pick up the scissors or hit print. Check out the following link for persuading statistics on the coupon epidemic sweeping the nation as well as to learn tips on filling up the fridge without emptying the bank: http://www.nationalcouponmonth.com/.
###