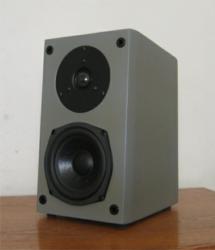 (PRWEB) September 18, 2011
Our First-Generation Loudspeakers:
Its been nearly 3 years since the introduction of the Reference Mini Monitor Speaker (back in 2008). The Reference MM-100 Monitor was introduced as an audiophile-like loudspeaker. This monitor speaker featured quality parts and components that are usually found in high-end loudspeakers, such as a robust silk dome tweeter, an all handmade hardwired crossover using aircore inductors, high-grade resistors and poly caps. All of the features you would expect from a speaker costing twice its price.
Introduction of the Module line:
For those who are looking for a simple, yet more affordable solution, the CM-100 (module) may be the speaker for you. The CM-100 is our most affordable speaker with a starting price of just $149 a pair. This compact, but mighty monitor features a simple design that results in sophisticated sound. The secret lies in a simple, but very efficient 2-way design. This speaker can be powered by the smallest of amps, (as little as 15 watt per channel) or up to a hefty 100 watts per channel. Each speaker features a crisp sounding 3/4" soft dome and a wide range 5 1/4" woofer with large rubber surround for deep bass response and high power handling. The result is a monitor speaker that adds amazing sound quality and dynamics in a very compact package. This speaker can be used for music, theater or even gaming application.
After receiving positive feedbacks from listeners, we decided to continue the production of our first-generation products. Even though these products have been around for a few years now, not many have had the opportunity to experience them; so the decision to continue pushing these early products, only seem right. "Once consumers are introduce to our speaker products and have a feel for them, we believe they will be looking forward to our next line of speakers to come. With audio technology changing rapidly, our current products are still setting the stage for even better ones to come."
What to expect for the next year:
In 2012, expect to see more of Modvo. This means, more product reviews, hands-on video footage and of course, new product lines. Our next generation speakers has already been pre-release and are in beta testing. These products will be very promising and will continue to take steps forward for better sound and music reproduction. Our company is steady changing, but one goal will remain the same, to provide listeners with great sound and built quality for the price.
###