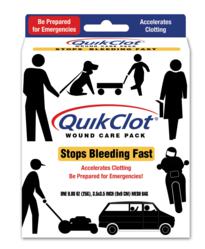 For less than the cost of a movie ticket, QuikClot offers consumers the ultimate insurance for surviving a serious, potentially life-ending injury
Litttleton, NH (PRWEB) September 02, 2011
Earthquakes. Floods. Hurricanes. Tornadoes. Car crashes. No one has the luxury of knowing when they or a loved one might be thrust into a situation where they sustain a potentially life threatening bleeding wound. That's why consumers need to be prepared to address these worst case scenarios by always keeping QuikClot® Home, the world's most effective hemostatic bandage for stopping bleeding, on hand.
Originally developed for the U.S. military, which relied on the product's groundbreaking technology to save scores of soldiers' lives on the battlefields of Iraq and Afghanistan, QuikClot® is now available to consumers at food, drug and mass retail outlets exclusively from Tender Corp., a leading developer of first aid products designed for active lifestyles.
HOW IT WORKS
Developed by Z-Medica Corp., QuikClot® Home (MSRP$9.99, 25 g pack) is a mesh bag made of a porous fabric that contains tiny beads of a mineral called Zeolite. When QuikClot® comes into contact with a bleeding wound, the Zeolite acts as a molecular sieve, rapidly absorbing smaller water molecules from the blood. Only the larger platelets and clotting factor molecules remain in the wound in a highly concentrated form – a process that promotes extremely rapid natural clotting and prevents severe blood loss. When placed onto a wound, the QuikClot® bag stops even venous and arterial bleeding in as little as five minutes. By contrast, conventional methods for stopping bleeding, such as applying direct pressure, can take between 10 minutes to 30 minutes to clot blood, but by that time it can be too late.
QuikClot®'s FDA-approved low-heat formula is completely safe and biologically inert, so there's little chance of an allergic reaction occurring. And, unlike competing products, which often come in the form of loose granules, there's no risk of QuikClot® scattering in windy conditions or becoming easily activated by rain or water.
"For less than the cost of a movie ticket, QuikClot® Home offers families the ultimate insurance for surviving a serious, potentially life-ending injury," said Tender Corp.'s Chief Marketing Officer Frank Meyer.
PROVEN TO SAVE LIVES
In addition to being the hemostatic product of choice of the US Military, EMT teams across the country have relied on QuikClot® to save the lives of gunshot victims, including people who sustained bullet wounds during the high-profile mass shootings that occurred outside of a shopping mall near Tucson, AZ, this past January.
Every year 50,000 people in the U.S. die from bleeding related to traumatic injury, said Meyer. "When someone suffers a serious bleeding wound every moment counts. If you don't have immediate access to professional medical assistance, QuikClot is your next best option."
An indispensable addition to a home first aid kit or car glove compartment, QuikClot® Home is available at Walmart, among other leading retailers. Just in time for National Preparedness Month, starting this month, Tender Corp. will be offering a special coupon through Walmart and Coupons.com for a $2 discount off of QuikClot® Home. For more information on QuikClot® and other essential emergency and disaster preparedness products, visit Tender Corp. and its outdoor subsidiary Adventure® Medical Kits.
About Tender Corp.
Tender Corporation, a leading developer of skincare and first aid products designed for active lifestyles, is a privately owned and operated business located in the heart of the White Mountains in Littleton, NH. Currently, its products are distributed worldwide in over 40 countries. Founded in 1975, the firm manufactures and markets the world-famous insect bite treatment, After Bite® -- The Itch Eraser®, a full line of well-known insect repellents, first-aid treatments, sunburn and windburn products, as well as activity-specific first aid kits and survival gear through its outdoor division Adventure® Medical Kits. Web: http://www.tendercorp.com
# # #