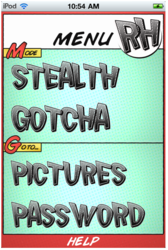 Encino, CA (PRWEB) September 02, 2011
Simpkins Productions, Inc. is proud to announce the release of their first-of-it's-kind iPhone app, Red Handed Cam. Using the iPhone's front facing camera, Red Handed Cam catches photographic proof if someone is using an iPhone without permission of the owner.
Red Handed Cam solves the problem many people in relationships face: "I think my boyfriend is reading my text messages...but I have no proof!"
It works like this: turn on Red Handed Cam and leave the phone out. The next time someone uses the phone, Red Handed will take a picture of them and store it securely. The owner of the iPhone will have photographic proof that someone was snooping around on their iPhone.
Red Handed has two modes. In Stealth mode, the person doesn't know their picture was just taken. In Gotcha mode, they get a screen alerting them they have been caught Red Handed.
Red Handed Cam is the first and only iPhone app that provides photographic proof of unauthorized access.
It is available in the iTunes App store for $.99.
About Simpkins Productions, Inc.:
Simpkins Productions Inc. (SPI) is a five year old entertainment media company; specializing in network reality television production and mobile app development. SPI has produced numerous television shows including: American Idol, Hell's Kitchen, Top Chef, Celebrity Apprentice, The Amazing Race, and Big Brother.
###