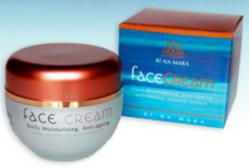 From the purest marine waters in the world off the west coast of Ireland.
(PRWEB) September 14, 2011
Since Ri Na Mara launched their boutique range of Luxury Seaplant Cosmetics, the company has gained substantial recognition, winning a number of prestigious awards:
The Marketing Institute of Ireland voted the company "Connacht Marketing Champion 2007"
Lá Viridian Award for Innovation
Top 50 Cross Border Achievement Award
Director Deirdre UÍ Chathmhaoil was voted "BPW Business woman of the year"
Following three years Research and Development, which included research throughout Europe and particularly in France, RÍ NA MARA discovered the same species of seaplants thriving off the west coast of Ireland, the purest marine waters in Europe.
RÍ NA MARA proudly announces the selection of a variety of seaweeds including Laminaria Digitata, Chondrus Crispus, Fucus Serratus and Ascophyllum Nodosum, all Latin names for seaweed which are used internationally. People in Ireland may be more familiar with Irish names: Dilisk, Carrageen moss or Bladderwrack.
RÍ NA MARA have created a unique combination of mineral rich extract, when slowly and meticulously distilled as one, form the basis of our luxurious skin care range.
All RÍ NA MARA Products are pH balanced, biodegradable, not tested on animals, free of mineral oil and animal derivatives, giving the consumer a unique, natural product that will allow them to experience the full benefits of Vitamins A, B,C, D, E, Proteins, Amino Acids, and a rich collection of minerals, Iron, Calcium, Iodine all contained in seaweed.
Director Deirdre Chathmhaoil proudly states "harvested from the purest marine waters in the world off of the west coast of Ireland."
Contact Ri Na Mara USA for wholesale opportunities or visit us online at http://www.rinamarausa.com to purchase.
# # #