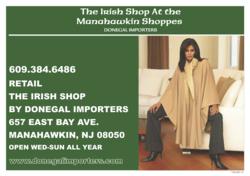 New York, NY (PRWEB) September 13, 2011
In 2008 Donegal Importers was launched to help small business in Ireland grow their business in the United States. In 2011, Donegal Importers has just announced a call center in Dublin, Ireland is being utilized to take on the inbound call volume that has resulted due to growth. What a story during difficult economic times!
Today company CEO John Murray stated "we have been fortunate to grow our business over the past 3 years and look forward to having a call center in Dublin, Ireland to aid in all orders and customer service issues."
Mr Murray went on to say "in the past if an issue arose over shipping or a question needed to be answered on color or size our customers want to be able to communicate with an individual not a computer. We feel having a customer service representative in Dublin, Ireland is the best resource we can provide when someone has a question about an Irish product."
Donegal Importers is open 24 hours a day 7 days a week. The company currently has offices in both the United States and the Republic of Ireland.
# # #