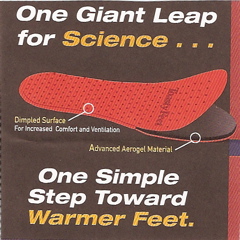 Toms River, NJ (PRWEB) September 16, 2011
Originals By Weber, owner, Terrance L. Weber, Toms River, NJ announces immediate availability of three new products, all designed to help people keep warm and comfortable this winter. Weber offers: Toasty Feet Foot Warming Insoles, Weber Thermal Wrist & Ankle Wraps, & Weber Breath Warming Cold Weather Face Mask.
Everyone can easily overcome below zero outdoor temperatures with one or more of these three new products: First, to keep feet warm, (about 72-degrees at all times), wear these new Toasty Feet high-tech foot warming, non-electric, shoe insoles. They are made of same ultra thin NASA developed insulation material used during space walks. Second, to keep fingers and toes warm wear new Weber non-electric Wrist & Ankle Wraps, made of the same NASA created insulation in Toasty Feet foot warmers. This space age insulation controls temperature of blood as it flows from wrists and ankles to fingers and toes. In fact, this new insulation material can ward off cold better than any other insulating material in the world. Third, new non-electric Cold Weather Breath Warming Mask makes it possible for a wearer to inhale warm air into lungs thus keeping whole body warmer.
Toasty Feet Foot Warmers are non-electric thermal insoles made with a layer of ultra-thin insulation material developed by NASA. This material has lowest density and best insulation qualities of any solid known to man. This highly efficient insulation material (Aerogel) is used to protect astronauts from temperatures as low as minus 200 degrees (F) and it is considered best insulation material ever developed. A person wearing these Toasty Feet insoles in shoes or boots will have temperature of their feet maintained at approximately 72-degrees (F) at all times. No more cold feet. See video below. Video is also available at the following website: http://www.originalsbyweber.com/page/page/3934760.htm
Below are comments from wearers of Toasty Feet insoles:
"Excellent product. I am amazed how good these are, am going to buy more!"
"Nerve damage in feet. These have made me more comfortable. Thanks!"
" These work! Used them in 9 degree weather feet stayed warm A+"
Weber Thermal Wrist & Ankle Wraps: These non-electric Wraps: are designed to keep hands, fingers, feet and toes warm and comfortable in all kinds of weather. People in physical therapy as well as others involved in a wide variety of outdoor activities in winter can use these non-electric Wraps. In addition, Wraps are very beneficial to people who suffer with Raynaud's Syndrome. The Wraps use same NASA insulation material as in Toasty Feet foot warmers. These Wraps effectively maintain temperature of blood at approximately 72-degrees (F) as it circulates naturally from wrists to hands and fingers, also from ankles to feet and toes. It is suggested these Wraps be worn 24/7 as much as possible, as a way to gradually, over time, improve blood circulation to those extremities as much as possible. When asked what kind of comments he gets from users, Weber gave these examples of customer's comments:
"I have worn the heck out of the ankle and wrist wraps! They have helped with my circulation in both my hands and my feet."
"Thrilled with the purchase of the wrist and ankle wraps."
"For the first time in years my dad has warm hands. Thank You so much!"
See video about Weber Wrist & Ankle Wraps at website: http://www.originalsbyweber.com/raynaudshelp.html
The Cold Weather Breath Warming Face Mask is a non-electric facemask designed with an internal (non-electric) breath warming heat sink that eliminates many dangers that can be the result of inhaling very cold winter air into lungs. Each inhaled breath passes through a newly patented heat sink device in the mouthpiece of the mask. Next, exhaled air, after being warmed while in lungs, passes out through, and warms, the mesh in the built in heat sink. Then, each subsequent inhaled breath of outside air is automatically warmed as it passes through the now warm heat sink. The result is: no cold air enters the lungs and whole body feels noticeably warmer. Included with each mask are five washable felt liners used to keep inside of the mask clean and sanitary. Included with each mask is a supply of Weber's Anti-Fog spray liquid to keep eyeglasses fog-free. Weber said users of breath warmers have told him:
"Third time buyer. This time I bought 2 more. Obviously I'm very satisfied!"
"It works"
Prices of these three (made in USA) products are as follows: Toasty Feet Foot Warmer Insoles @$24.95 each pair; Weber Wrist & Ankle Wraps @ $29.95 each pair; Cold Weather Breath Warming Face Mask @ $29.95.
Note: Shipping (to USA) is free. For more information or to place an order, write to: Originals By Weber, 338 Alabama Avenue, Toms River, NJ 08753 or visit the website: http://www.yrret.stirsite.com/page/page/3934760.htm
Or: http://www.originalsbyweber.com See Toasty Feet video below or go to:
http://www.originalsbyweber.com/page/page/3934760.htm See a Wrist Wraps video at this website:
http://www.originalsbyweber.com/raynaudshelp.html
Phone: 1-877-309-8382. Or 732-864-0353
###