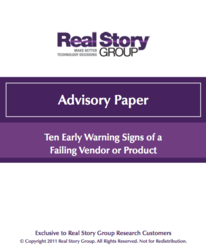 Some warning signs will prove more critical than others...
Washington D.C., London, The Hague (PRWEB) September 07, 2011
The Real Story Group's President, Tony Byrne, just released an Advisory Paper designed to help end users of content technology quickly identify failing vendors or technologies. The Real Story Group is a buyer's advocate for enterprises looking to invest in content technologies. By monitoring ten early warning signs, this Advisory Paper gives IT, HR, and Marketing Managers a way to assess risk and prepare for pending problems.
It's a fact of business life that Web CMS, DAM & MAM, ECM, and other software companies sometimes go out of business or vendors sometimes sunset their products. This actually happens less than most customers fear, but when it does happen, the results can range from damaging to catastrophic. Therefore, a prudent customer will monitor key technologies and suppliers for potential problems.
Fortunately, a failing vendor, product, or open source project will exhibit telltale signs of a coming failure. Byrne identifies ten potential warning signs and offers an approach to distinguish between simple technical or business hiccups, and potentially serious trouble. This Advisory Paper also includes a simple quiz that rates likely risk levels among key technology suppliers.
Failure knows no boundaries; the time to start building a risk profile is when a business first licenses a tool, and again when they renew a significant commitment — even if they are not displaying any obvious warning signs. The Real Story Group has witnessed seemingly successful SaaS vendors go bankrupt nearly overnight, large vendors kill a failing product (such as Microsoft Content Management & EMC|Documentum Web Publisher), appliance vendors go under, and open source communities fade to near uselessness.
In 2001, Tony Byrne founded CMS Watch as a vendor-independent analyst firm to evaluate content technologies and to publish research comparing different solutions head to head. Over time, CMS Watch evolved into a multi-channel research and advisory organization, spinning off similar product evaluation research in various areas of Enterprise Content Management. As part of this natural evolution, in 2010 CMS Watch became The Real Story Group.
During the last decade, Tony has advised clients such as the US Department of the Treasury, the American Association of Retired Persons, MBC TV in Dubai, the Canadian Cancer Society, and Seattle Children's Hospital.
###