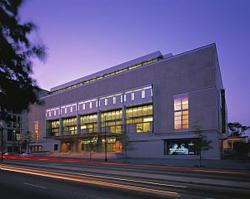 enable the Library to track the location of all material housed in the State Records Center
Kensington, MD (PRWEB) September 15, 2011
Infolinx™ System Solutions, a leading provider of enterprise physical records management software, announced the implementation of Infolinx WEB by the Library of Virginia. The enterprise solution includes the Virginia State Archives and the State Records Center.
Under the authority of the Virginia Public Records Act, Records Analysis Services (RAS) at the Library is responsible for ensuring that public records are maintained and available throughout their life cycle. RAS supports localities and state agencies with the efficient and economical management of their public records by publishing Records Retention & Disposition Schedules, presenting workshops, monitoring the disposal of non-permanent records, and assisting with the transfer of permanent records to the Archives. The Records Center is used to store inactive, non-permanent records of state agencies and local governments.
Central to the Infolinx solution is the incorporation of more than six thousand records retention series along with hundreds of supporting citations overseeing the management of more than half a million physical records received from state and local agencies as well as tens of thousands of accessions received from private donors.
Records centers throughout the industry are realizing significant value as they migrate to contemporary online solutions like Infolinx WEB. Essential features include space management across multiple facilities, integrated chargeback capability, dynamic and flexible security easily configurable for thousands of users, robust reporting, and extensive records disposition process support.
Paul Casalaspi, Director of Information Technology, updated the Library Board last year upon the decision to add the State Records Center to their existing Infolinx Web application. "The new system being implemented will enable the Library to track the location of all material housed in the State Records Center, whether kept in the records wing or the archival wing, and will replace a very antiquated program (GAIN) that the Library has used for more than ten years," said Casalaspi.
About Infolinx™
Infolinx System Solutions is a leading provider of enterprise physical records management software, professional business services and information management consulting products to a broad range of commercial and government clients worldwide. Infolinx solutions and services manage critical business documents from point of creation through final disposition, offering customers reduced risk and improved operational efficiencies with a verifiable return on investment. Infolinx maintains clients within all major business segments and the public sector. Visit Infolinx System Solutions for additional information.
###