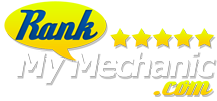 Find quality Car, Boat, Motorcycle and Big Rig mechanics in your area
Los Angeles, CA (PRWEB) September 05, 2011
Rankmymechanic.com has been launched with the goal of assisting consumers in any city in the U.S in finding the local mechanic that is the most optimal for their needs. By using the five ranking criteria: Affordability, Customer Service, Time Efficiency, Quality of Work, and the Overall Score, the site provides consumers with a plethora of information to allow one to make an intelligent decision on who to choose to repair their car, truck, motorcycle or boat.
Rankmymechanic.com was created to provide consumers with information on mechanics in their neighborhoods. A simple enter of one's zip code will issue consumers a list of mechanics in one's area. The site also gives mechanics the opportunity to create a profile and create an advanced listing on the site. The site has networks of mechanics across the U.S, and includes an assortment of service types from Auto Radio and Stereo services to Auto Wheels and Tires and everything in between. Once again, the site doesn't just cater to regular car drivers, but even has rankings and reviews on Big Rigs from Detailing to Repair, Boats from Cleaning to Covers and, Motorcycles from Customizing to Classics.
The several categories provided on the site, allows consumers to find specifically the service they are looking for, without having to sift through mechanics who may not provide the needed service. Anyone can register; therefore, the rankings and reviews are written by individuals whose rankings and reviews benefit their neighbors, and guide them in the right direction. Register at http://www.rankmymechanic.com
Rankmymechanic.com is a database that can help both consumers and mechanics by increasing awareness on the services provided at each shop, as well as by distinguishing the quality mechanics from those who are not. Categories are provided to aid in finding the specific service that is being sought. The five category rank criteria allows for decision making to encompass Affordability as well as Quality of Work, while still keeping in mind Time efficiency and Customer Service. The quality of an overall experience at a mechanic includes many facets, and this site provides the tools necessary to find the best mechanic for each specific consumer.
Rankmymechanic.com helps consumers find specialized mechanics in their area. Ratings and reviews are the opinion of users and not Rankmymechanic.com
William Butler, Chief Executive Officer
Rankmymechanic.com
909-758-1804
http://www.rankmymechanic.com
###