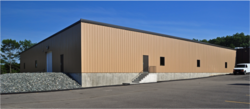 Attleboro Falls, MA (PRWEB) September 01, 2011
Distron Corporation, a leading provider of electronic contract manufacturing based in Attleboro Falls, Massachusetts, has announced an ongoing initiative continually focused on optimizing the company's systems to deliver even higher levels of precision, accuracy, and quality. This initiative will reach a major milestone on September 1, 2011 when the company will cut the ribbon on its newly expanded facility.
In previous years, Distron Corporation chose YESTech, a worldwide supplier of automated optical and x-ray inspection systems for its F1-Series automated optical inspection (AOI) system. According to Don Petry, Distron's Vice President of Sales and Marketing, "Distron selected this system to support our growing operation and to help us continually expand our capabilities."
More recently, Distron's continued focus on expanding capabilities made an even greater impact when the electronic contract manufacturing company broke ground on a major factory expansion in 2011 which is rapidly approaching completion. President of Distron, Robert Donovan explains that the expansion has been "driven by the growth of [Distron's] existing base of OEM customers and the expansion of the LED Lighting, cleantech, and Medical industries of Massachusetts." He continues to explain that the "12,5000 square ft. addition will include a new SMT assembly work center, a new stock room, an expanded electro-mechanical work center, and more."
In keeping with the company's focus on continued growth and development, Donovan explains that in addition to improved inspection equipment and more space, the electronic contract manufacturing company's most recent expansion will also incorporate investments in over one million dollars worth of new robotic placement and inspection equipment. According to Petry, the combination of new equipment and more space for the company, "Exemplifies our focus on moving forward and providing for our customers – old and new – the very best electronic contract manufacturing services around."
Among the new equipment to be added with the company's expansion, customers will benefit from Mydata 100DX SMT placement equipment, an Ekra semi-automatic screen printer, a DEK fully automatic screen printer, new Heller RoHS reflow oven, nexgen Yestech AOI Machine, and a brand new aqueous cleaner.
About Distron Corporation
Distron Corporation, located in Attleboro Falls, MA is a New England based provider of electronic contract manufacturing services with over 36 years of experience servicing small to medium size companies. According to Distron, the company's services are catered to OEMs that require speed, competitive pricing and local service. Distron's staff will manage a client's product from procurement and assembly through order fulfillment and depot repair. For more information, please contact Distron at 508.695.8786 or email sales(at)distron(dot)com.
# # #