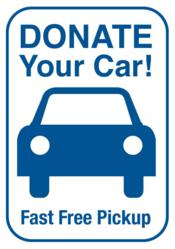 Altadena, CA (PRWEB) September 07, 2011
Michael Irwin of Kars-R-Us announced the addition of the Mildren Franks Foundation and the St John Prayer Center to http://www.donation2charity.com. Michael, who has managed Car and Boat Donation Programs for 15 years, is always happy to help charities looking for an additional source of funding.
Visitors to http://www.Donation2Charity.com can find answers to Frequently Asked Questions regarding car donations and tax deductions. "Although the IRS rules for car donations changed back in 2005, donors can still get a tax deduction". Michael points out that, "Donors are allowed to take a deduction for up to the full sale price when we sell their donated vehicle or vessel, with a minimum value of $500".
Lisa Frank,Vice President of Kars-R-Us, says, "We work very hard to get top dollar for every donated car, truck and boat. That ensures donors get the highest possible tax deduction, and the charities get the most value for every donation. At the beginning of this year, the average sale price was up 20% over 2010."
Lisa points out that the work done by most charitable organizations is not supported by government funding: "The charitable organizations supported by car and boat donations fill a void where no government programs exist." That includes assistance with health and family issues, missing kids, tutoring, feeding and tending to those in need, and a wide variety of other assistance programs.
Melody Gibson, Co-Founder of Operation Lookout National Center for Missing Youth, had this to say about the Kars-R-Us Car Donation Program: "Thank you for taking your role in fundraising so seriously. You must be doing something right by properly focusing on your nonprofits, cars, and what folks want. Your role will benefit more kids, and we are deeply grateful".
Some of the charities supported by http://www.donation2charity.com include: Caring for Our Children Foundation, Child Quest International, Columbus County Services Management, Ethiopian Orthodox Social Service Center, Easter Seals-Goodwill, Find the Children, Grace Community Church, Mildred Franks Foundation, OASES, Operation Lookout National Center for Missing Youth, San Francisco AIDS Foundation, Society of St. Vincent De Paul, St. John Love Center, Stray Pets in Need, Terry Home, Texas Center for the Missing, The ARC, Tommy Foundation, WTHU Christian Radio Coalition, and Youth for Human Rights International.
For answers to questions about making a car or boat donation, call 888-325-4155, or visit http://www.donation2charity.com.
###