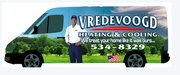 Don't Wait Until Winter. Tune Up Now and Save
MIchigan (PRWEB) September 09, 2011
A Michigan heating company is encouraging families to take a proactive approach to Michigan heating and cooling this winter: Prepare now. Save a little now. Save a lot later.
Preseason tune-ups are just $79 at Vredevoogd Heating and Cooling, the Michigan-based HVAC company that's been providing cutting edge equipment and stellar service at affordable prices to families in Grand Rapids, Holland and Grand Haven for more than 45 years.
Tune-ups normally cost $109, so this late summer deal already provides significant savings. But considering how much it costs to heat a home in the middle of a stiff Michigan winter with an inefficient or poorly performing furnace, Vredevoogd's customers can expect to earn an even greater return on their maintenance investment when winter utilities bills arrive.
Like any machine, a furnace uses more energy when it is in need of some basic maintenance. Without a tune-up, little problems turn into big (more expensive) problems, and the entire system can break down when demands placed upon the machine are highest (usually on the coldest day of the winter). At minimum, Michigan homeowners are facing higher energy costs if they don't take the time to service their furnaces in advance. At worst, they'll be stuck in a freezing cold house in need of an expensive repair.
In other words, preseason service is a good idea. And Vredevoogd has made it as cheap as possible to get it done now.
The deal only lasts until Sept. 30, and appointment availability is limited. To schedule an appointment, or to learn more about Vredevoogd, call (616) 534-8329 or visit the Michigan HVAC leader's website at http://www.vredevoogd.com.
About Vredevoogd Heating and Cooling: Ever since its founding back in 1964, the Michigan HVAC leader has operated on a strict, but simple philosophy: treat customers' homes like their own. On the strength of this commitment to service and excellence, the company has grown to more than 40 people on staff servicing Grand Rapids, Grand Haven and Holland.
###