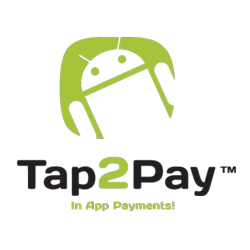 New York, NY (PRWEB) September 01, 2011
Mobile payment provider Text2Pay today announced Tap2Pay™ their in-app payment solution for Google Android™. Text2Pay enables developers to integrate the Tap2Pay payment widget into their application with a simple API and Java library. Tap2Pay offers all the benefits of Text2Pay including a white labeled solution with coverage in over 70 countries and competitive revenue share rates.
Tap2Pay enables developers to charge their users for premium application features or virtual credits. This in-app payment solution offers developers a momentous revenue opportunity with the ability to monetize any mobile application in over 70 countries with a consumer reach of 95-100%.
Tap2Pay does not require credit card details, user login or third-party registration, it is as simple as accepting the payment and having the purchase added to the user's phone bill. When the user chooses what to buy, the developer makes one simple call to start the transaction and the user confirms this with a single tap on their mobile phone.
In-app payments are instantly made available to consumers once Tap2Pay is integrated into the mobile developer's application. With 95-100% coverage in over 70 countries, the ability to process transactions in 60 currencies and localization support for 49 languages, there is no need for any additional development work. Tap2Pay offers single tap purchasing through carrier billing, built-in support for one-off and subscription items along with virtual currency and virtual goods transactions.
To see how Tap2Pay Android in-app payments work, watch the demonstration here.
About Text2Pay
Text2Pay is a leader in online payments using the mobile phone. Text2Pay makes it easier for consumers to pay for virtual goods and services by using their mobile phone. With strong security and high conversion rates being the most important factors, Text2Pay's goal is to make the customer's payments experience more enjoyable and easy.
With offices in Australia and the United States, Text2Pay's global reach is robust and can accommodate for your mobile payment needs.
Visit Text2Pay.com for more information on in-app mobile payments.
Text2Pay and Tap2Pay are registered trademarks of Text2Pay, Inc. All other brand names, product names, or trademarks belong to their respective holders. Text2Pay reserves the right to alter product offerings and specifications at any time without notice.
Text2Pay Inc.
Adam Weinstein, (646)-673-4972
info(at)text2pay(dot)com
###